Grayl vs. Sawyer: Which Water Filters Are Better?
When hiking, traveling to different countries, or living off the land in places where fresh, sanitized water is not readily available, it is vital to have a way to purify water. There are many different water filtration systems that you can purchase and use on the go.
Both Sawyer and Grayl have their perks as water filtration systems; however, if you are looking for high quality, quick filtration, and the durability to outlast treacherous conditions, Grayl is the best water filtration system for you.
Whether you are a backpacker or a world traveler, you will need a water filtration system to protect you from bacteria, protozoa, and viruses that can cause sickness and even fatal diseases. Therefore, it is important to weigh the pros and cons of each brand and decide which filtration system is best for you and your needs.
Related reading: Grayl Geopress Review: The Best Water Purifier?
Grayl vs. Sawyer: Which water filter is better?
The Grayl and Sawyer water filtration systems have some similarities but are different in a few crucial ways. Grayl is better made and is much more suited to tougher terrain if you're hiking or boondocking; however, it is more expensive, and the filter cartridge doesn't last as long as the Sawyer does.
Both filtration systems are easy to use and fantastic to take on the go when you need access to freshwater while traveling, but you should be aware of the pros and cons of both systems to make an informed choice. 
Here are the pros and cons of the Grayl and Sawyer water filtration systems:
| | | |
| --- | --- | --- |
|   | Grayl Water Filtration | Sawyer Water Filtration |
| Pros | Holds more ouncesSharing abilityMore versatility Designed in the USProtects user from not only bacteria and protozoa, but also viruses | More affordableLasts longerWeighs lessKills bacteria and protozoaOffers a mini version for easy travel |
| Cons | Does not last as longMore expensiveWeighs twice as much as Sawyer | Not as durableDoes not offer sharing capabilitiesMore cumbersome in appearance Does not kill viruses |
Each buyer will be searching for different specifications when looking for the perfect portable water filtration system, so it is important to stay open-minded when weighing out the pros and cons of each brand. However, the Grayl brand of water filtration has a better-made filtration bottle. It also offers more protection to your health and more capabilities that include sharing with others and versatility. (Source: Switchback Travel)
You pay extra for quality, of course, which is why Grayl does cost more per size than Sawyer does. Each buyer must make a list of their unique needs when searching for the right water filtration bottle so that they can have the perfect bottle for their upcoming adventure!
Related reading: Grayl Ultralight Vs. Lifestraw Go: Pros & Cons of Each
What is so special about the Grayl filtration system?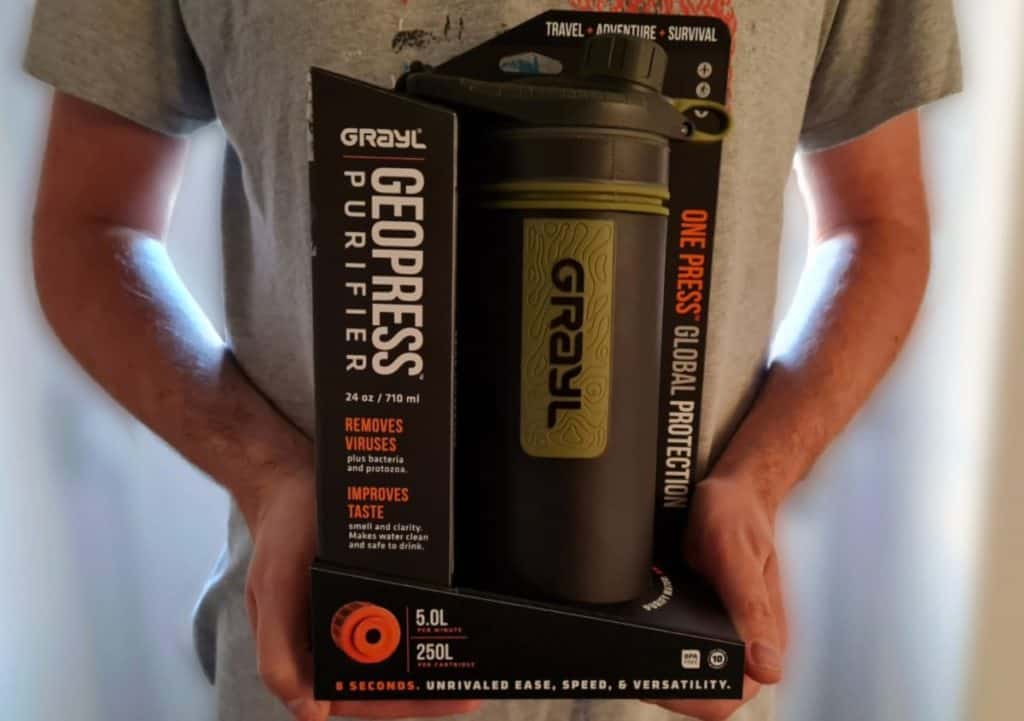 Grayl guarantees that they are the fastest filtration system on the market. No matter where you are, you can filter your water through the Grayl compression system.
Grayl's compression system is much like a French press in that once you've filled the water to a certain height in the container, you then press it into the filtration part of the bottle slowly. This step gives the water time to purify itself.
Why should you choose Grayl?
Durability – Grayl is made to look sleek and withstand being dropped, kicked, thrown, and banged around. The progressive style and build of this filtration bottle allow a fashionable yet durable option.
Filtration specs – Grayl filters chemicals, particulates, and heavy metals and improves the water's taste! It removes 99.9% of viruses, bacteria, and protozoa! 
Giving back – As if Grayl weren't fantastic enough, the company also donates a percentage of their earnings to wildlife preservation and restoration.
Even though Grayl is more expensive than its competitors, its overall performance is worth the extra dollars. In only 15 seconds, you can have purified, safe water in a bottle that both easy to drink from and easy to share with.
Not only will you be safe from bacteria and protozoa, but you will also be protected from various viruses that can be caught in other countries, unpurified water, and out in the middle of nowhere amidst wildlife. It can offer you peace of mind every time you need to hydrate!  (Source: Grayl)
Related reading: 8 ways to purify water for your off-grid home.
What is special about the Sawyer Mini filtration system?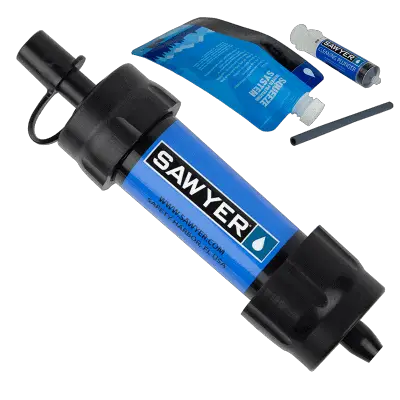 Easily stored and transferred, the Sawyer mini offers a fantastic alternative to larger, heavier filtration systems. The Sawyer filtration systems are great options for those who need a quick and easy way to filtrate water while traveling.
Some perks of the Sawyer Mini include:
It is affordable.
It offers a singular use feature, which is great when traveling alone.
This system can filter up to 10,000 times before needing replacement.
It kills bacteria and protozoa.
It won't weigh down your backpack when hiking long distances.
The Sawyer Mini offers healthy and safe hydration while traveling, and it will not weigh you down. Understandably, when hiking long distances, you must factor in all the necessary luggage for survival and comfort. The Sawyer Mini offers a system that is easy to pack and doesn't add much weight.
Related reading: Lifesaver Bottle Review: Better Than The Grayl Geopress?
A comparison of Grayl and Sawyer products
While Grayl has been determined as a better water filtration system, there is more to consider than just what the Sawyer or Grayl brand offers. Each brand offers products that are more suitable for certain adventures than others.
Here is a chart detailing the features of some Grayl and Sawyer products:
| | |
| --- | --- |
| Grayl | Sawyer |
| GeoPress Holds up to 24 ounces10.4 inches tall Filter built into the bottle | Micro Squeeze Filtration System Fits in the palm of your handWeighs only 2 ounces 32-ounce reusable pouch |
| UltraLight Holds up to 16 ouncesIt takes 15 seconds to filter 9.6 inches tall | Mini Water Filtration System Attaches to a water bottleWeighs 2 ounces Pouch included for drinking |
| Replacement Filters Grayl's filters do not last as long as Sawyer's, so it is imperative to purchase replacements | Squeeze Water Filtration System Weighs 3 ouncesAttaches to bottle Kills 99.9% of bacteria |
Why is filtering water so important?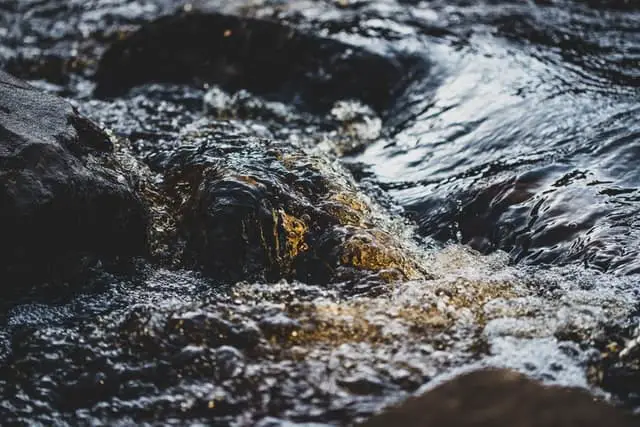 The human body is made up of almost 60% water, and without water, you can die within days. Your organs, skin, mind, and eyes all need a continuous water supply to be healthy and function properly.
Unfiltered water can contain many things that are hazardous to your health, such as:
Diseases
Bacteria
Parasites
Viruses
Protozoa
You must purify water before drinking it, especially if you are getting water from an unknown source. Boiling water is also an effective method of purifying water, but it takes much longer to do, and it is not assured that you will always have access to fire to boil the water.
Here are even more reasons to filter your water:
The water will taste better and look clearer.
Research has proven that filtering water reduces the risk of certain cancers and other diseases that could be life-threatening.
Filtered water can prevent exposure to over 2,100 toxins that could enter your body.
You can drink more and feel hydrated and continue traveling. (Source: Clear Water Concepts)
Drinking pure water is a basic human necessity. Access to it can save your life and keep you healthy. Not having access to clean water can prove to be very deadly. Filtered water is not a luxury; therefore, it is essential to be prepared before venturing out on a journey that may entail little to no access to purified water.
Related reading: Why do you need to purify water?
Conclusion
Water filtration is imperative for those who travel, hike, or are continuously in areas that do not offer freshwater. Different brands will work best for different users, depending on their specific needs. Nevertheless, Grayl is the best water bottle filtration system for those who need to stay extra safe during their adventures.
Compare and contrast specifics regarding each water bottle's features and decide which water filtration system is best for you and your needs.
Product Links
My Off-Grid Product Recommendations
Related Reading
For more portable purifier reviews, find out what I thought about the Grayl Geopress Review, or the Lifesaver Bottle. I also compared the Grayl Ultralight Vs the Lifestraw Go.
If you're looking for tools, equipment or reading materials, I have some other lists that you may find useful: