Unique Appliances Review: The Best Choice for Off-Grid Living?
Finding the right appliances for your off-grid home can be tricky. Your old AC units are likely to be a significant drain on your power supply, so we checked out Unique Appliances to see what they can offer.
Unique Appliances are a long-standing company that supply cooking and refrigeration appliances suitable for homes off the grid. They pride themselves on having their company roots firmly placed in the off-grid world and on providing excellent customer care.
First Impressions
My first impressions of Unique Appliances were really positive. It seemed to be a brand that could match the looks and styles of conventional appliances with specific energy options for off-grid living. For some things in the home, it is nice to feel you do not have to compromise on the look, effectiveness and quality of an appliance just to have it operational off the grid.
On first look, Unique Appliances appears to offer just that – sleek, high-performance appliances set up and ready to be powered by propane or solar DC power.
Who are Unique Appliances?
Unique Appliances is a firm that has grown hugely from its family roots over the last fifty or so years. Still run by the same family, the Petersens, the company now has the second generation, Steve Petersen, as CEO. The original vision was "to bring innovative, quality appliances to wherever you call home" and the company very much started with a focus on appliances for off-grid living.
Now Unique Appliances mirrors its off-grid range with a line in conventional appliances. The appliances, whether conventional or off-grid, are all kitchen-based; cookers, ranges, fridges and freezers, and a small range of supporting accessories. They're based in Ontario, Canada, but their predominant market is the US.
Related reading: What are off-grid appliances?
Cooking appliances
Unique Appliances' cookers come in three categories:
Gas Ranges 
The gas-powered units are their most extensive product range by far and are all set up for use with natural gas. Upon further investigation, it becomes clear that most can be converted for use with propane gas via a supplied conversion kit.
However, all the units in this range are supplied with electronic ignition. This means they need to be plugged into mains power via a standard socket. It is important to be aware of this if you are an off-grid customer because you will need to have a DC/AC inverter set up as part of your power supply feeding standard AC sockets or get one installed to be able to use these appliances off-grid.
If you are able to get everything set up in your off-grid home, the great thing about these appliances is that they are convection cookers. This is a bonus in terms of your cooking because it means the heat is circulated within the oven space giving a more evenly distributed temperature. The 24" Prestige stainless range is available from eBay for $999.93 but do make sure you can get your energy supply set up correctly before you buy.
As an alternative, you may like to check out the range of Browns gas cookers at Lehman's. They can also be converted to natural gas and some come with free shipping.
Related reading: Guide to off-grid solar inverters
Battery Ignition Propane Ranges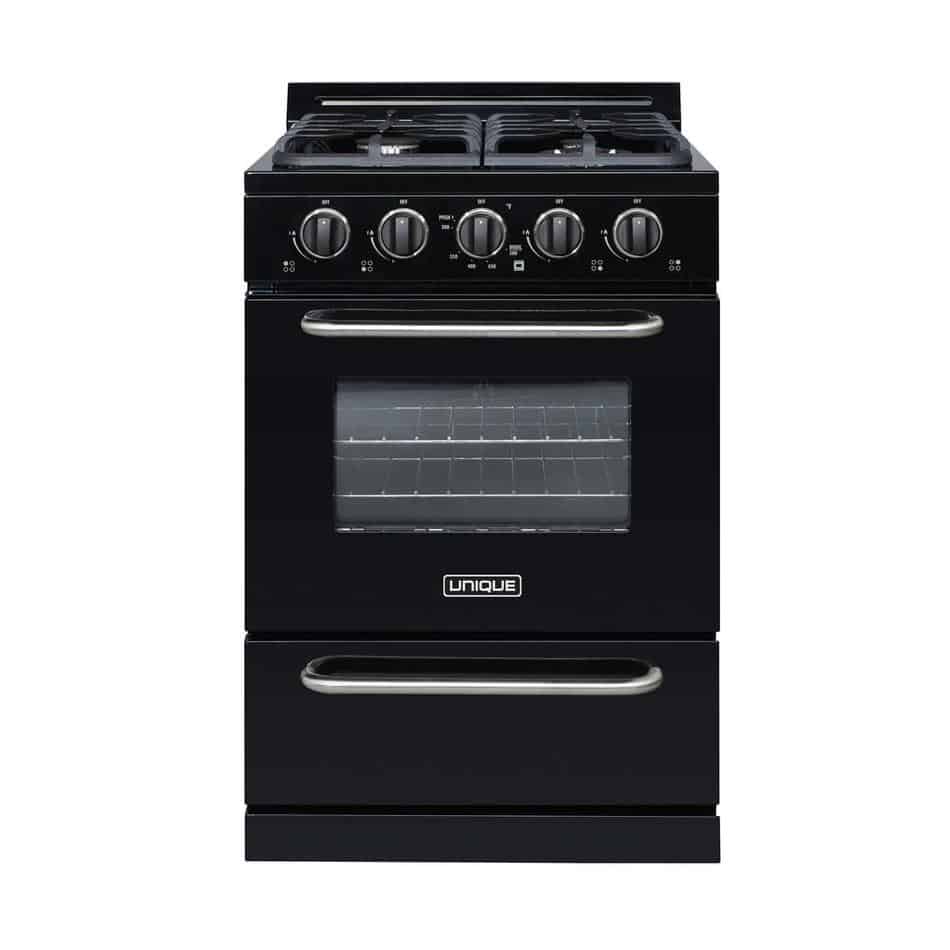 This collection is specifically designed for off-grid use, and it's clearly labeled as such. These units come ready setup for use with propane gas and the ignition is powered by battery, which makes them perfect for off-grid use. You can choose from a 20", 24" or 30" appliance depending on your space, and most come in a choice of white, black or stainless finishes.
The UGP-24G OF1 24" propane range in black is available from Home Depot for $782.79. The heavy-duty cast iron pan holders on the top burners make it easy to move cookware around and give it a quality feel. The oven is a decent size with two adjustable shelves, and a broiler pan sits below the oven in its own compartment.
You also may be interested in the alternative range of propane cookers available at BestBuy.
Electronic/Battery Ignition Gas Cooktops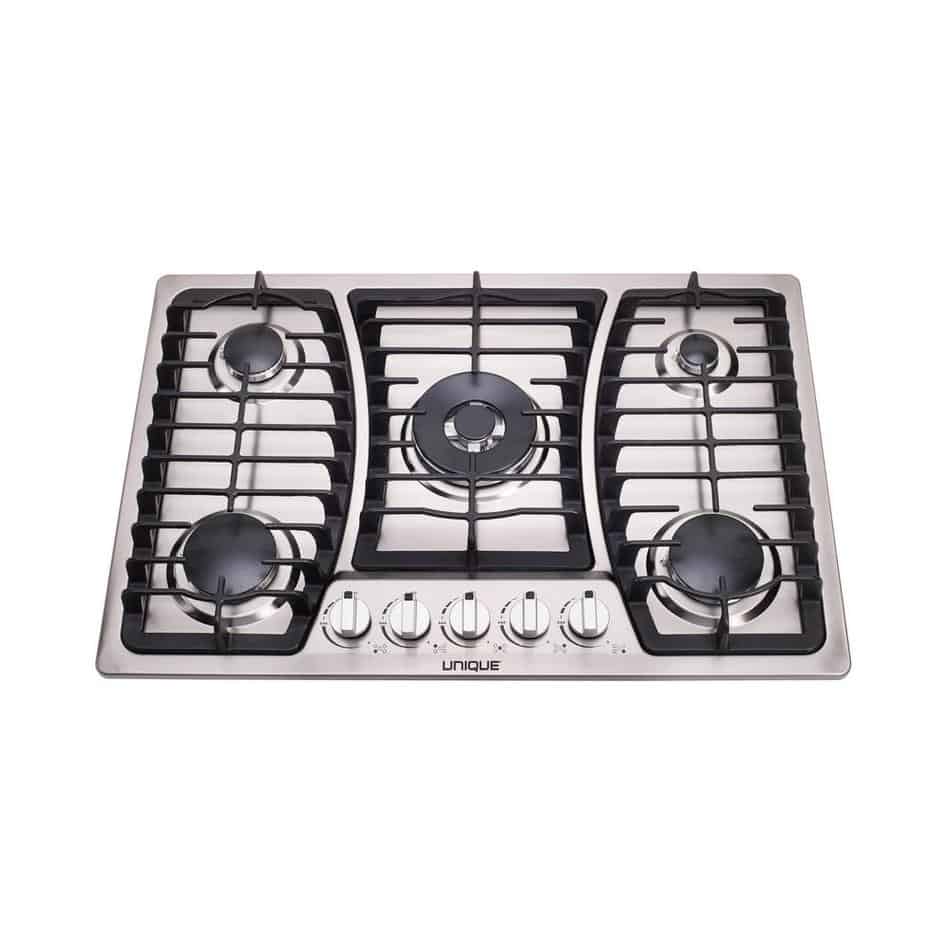 Unique Appliances also do a small product range of cooktops. These are all set up for natural gas but can be converted for use with propane using the included converter. Unlike the gas ranges, these cooktops come with a dual ignition system which allows you to use it either plugged into the mains or off-grid using the battery ignition. The dual ignition system is a new development, so let's hope they roll it out to the other collections too, as it makes them much more versatile and accessible.
Once again, the sizes of the cooktops range from 24" to 36" and are fitted with quality cast iron potholders. The 30" and 36" cooktops boast five burners, and all units give you a range of sizes to suit all cooking needs from a light simmer to a powerful boil. Both are available to buy from Home Depot at $395.99 and  $467.99, respectively.
eBay also offer cooktops with battery ignition, like this Summit model.
Related reading: Solar Vs. Propane – Which energy source is best for off-grid living.
Fridges and freezers
The Unique Appliances fridges and freezers are split into four categories:
AC Fridges and Freezers
These are your conventional fridges and freezers set up to operate with an AC power supply and may not be suitable for all off-grid homes.
Propane Fridges and Freezers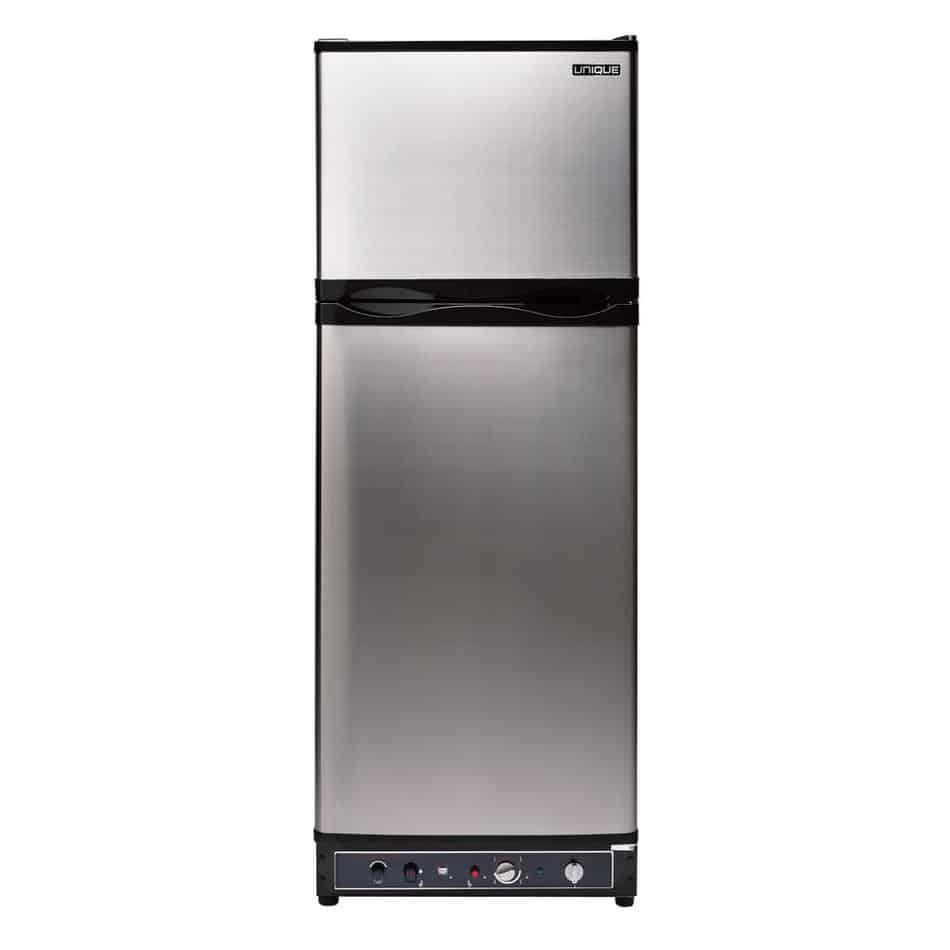 Unique Appliances offer a range of different sized fridges, most of them coming with a freezer compartment too. The smallest is the 3cu/ft propane fridge that has, a small freezer tray, room for two or three shelves, a vegetable drawer and door storage.
Increasing in size and capacity, the six, ten, fourteen, eighteen and twenty-two cu/ft models all provide a relative-sized freezer compartment and run off propane gas. The 22cu/ft model has an estimated gas consumption of 2.0lbs. LPG in a 24-hour period. The mid-sized 10cu/ft model has a consumption of approximately 1.4lbs. LPG in a 24-hour period. The stainless steel model UGP-10C is available from Home Depot for $1,799.99.
SMETA also do a range of propane refrigerators, some of which can be found on Amazon.
Solar DC Fridges and Freezers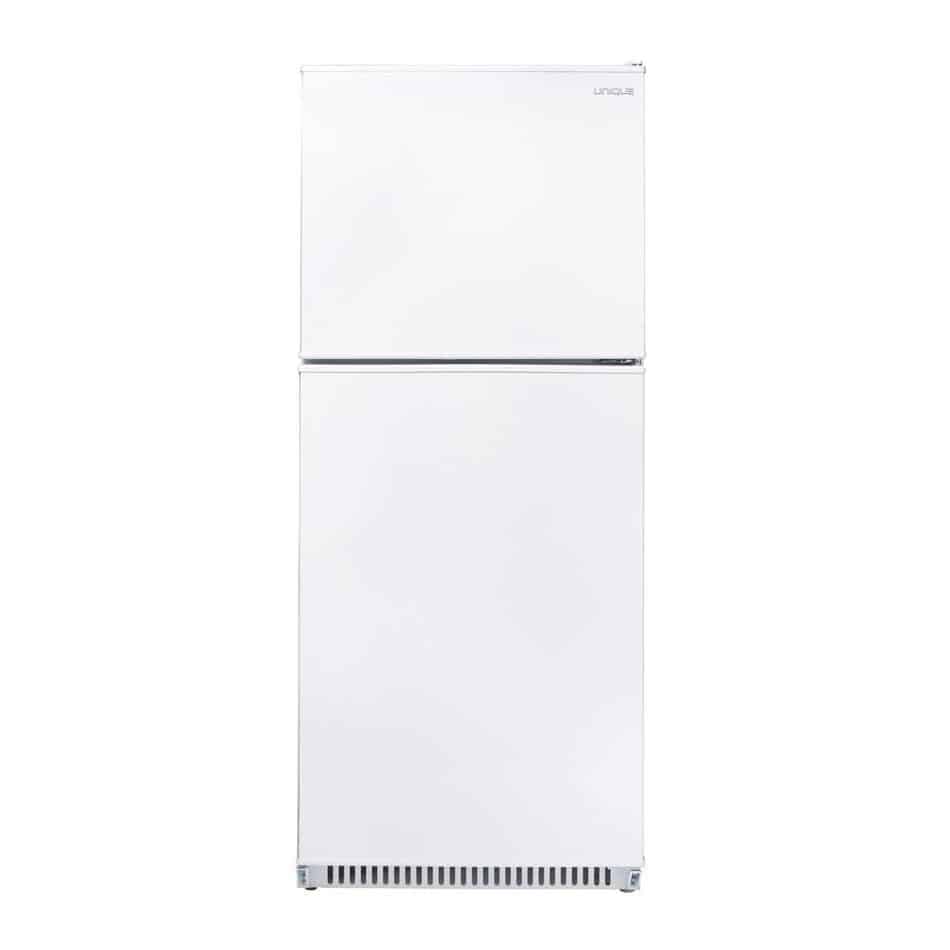 This is where the Unique Appliances off-grid credentials really seem to kick in. They offer a range of fridges with freezer compartments, all designed specifically to run off DC power, which is perfect if you are generating your energy through solar panels. To cater for the conventional market, these fridges can also accommodate an AC convertor to run on a standard household AC plug, but this has to be purchased separately.
The range is professed to host the "world's most reliable compact DC cooling system" the Danfoss/Secop compressor, and while this claim is unsubstantiated, the make is certainly a good one, and it comes with a two-year warranty. The power consumption of the 9.0cu/ft solar-powered DC fridge is good, only drawing 572 Wh/24hrs in a 77degree F ambient, set at 39degree F in the fridge and +7degree F in the freezer.
This efficiency is in part due to the excellent insulation of both the fridge and freezer sections. The freezer boasts 2.75 inches of insulation and the fridge 1.75 inches,  ensuring that your food is kept cold and your energy consumption is low. 
Unique Appliances also produces the largest upright DC powered fridge/freezer in North America, the 16.6cu/ft UGP-470L1. This seriously sized appliance gives you the ultimate ability to replicate the capacity of an on-grid kitchen in your off-grid home. It is available from Home Depot at $2,049.99
Related reading: Solar electric Vs. Propane freezer – Which is better?
Portable AC/DC Freezers/Fridges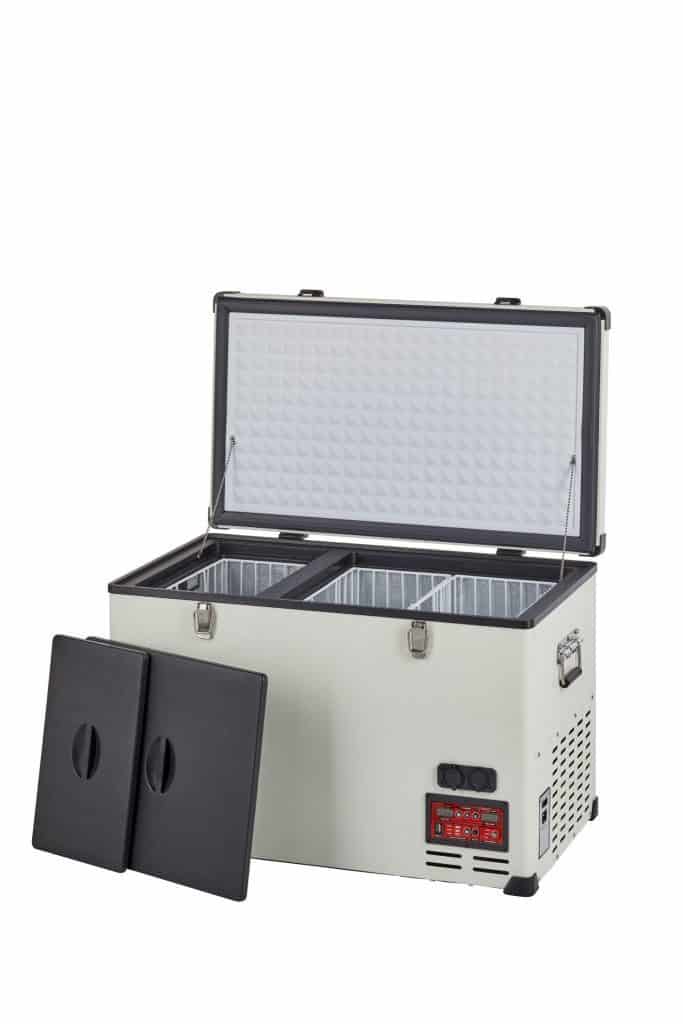 These chest-style units are the real deal when it comes to portable fridge/freezers. Once again, they boast the Danfoss/Secop compressor and have a good thickness of insulation. Able to run on DC or AC power, they have the flexibility that any vehicle user might want as well as being an option for a small or back up home unit.
The clever thing about these fridge/freezers is that the compartments are customizable via Bluetooth, in terms of temperature. They can act as either fridge or freezer units independently of each other and so can provide you with the ultimate in flexibility and effectiveness of space.
Unfortunately, this model has been discontinued and Unique no longer offer a portable solar fridge/freezer. The closest option is their portable propane freezer which you can find at Ben's Discount Supply.
However, if you prefer the top down compartment style, you might like this portable Whynter fridge.
Related reading: Off-grid fridges – Everything you need to know.
Retro Range
Both the convection gas range and the solar DC fridges and freezers are available in the Unique Appliances Retro range. These appliances take their design inspiration from the 1950s, giving them an iconic retro look and a finish with accents in chrome.
The color options in this range are broader than the classic range too. For example, you can choose your 24-inch convection gas range in ocean mist turquoise, summer mint green, midnight black or marshmallow white.
The Unique 6.1cu/ft solar-powered DC upright freezer is available in a striking red, making it a real stand out piece for any kitchen. The retro finish does add to the price tag of the appliances, but if the design features are what you are looking for, it certainly adds a statement to your kitchen with such an iconic look.
Consumer experience
While the quality of the products is important, customer service, support and experience, particularly for off-grid appliances, are also vital.
The website
The first thing to note when you visit the Unique Appliances website at www.uniqueappliances.com is that it is not a selling website. It is there to promote its products to you as a potential consumer and to the retail market who might want to enter into a dealership agreement with the company.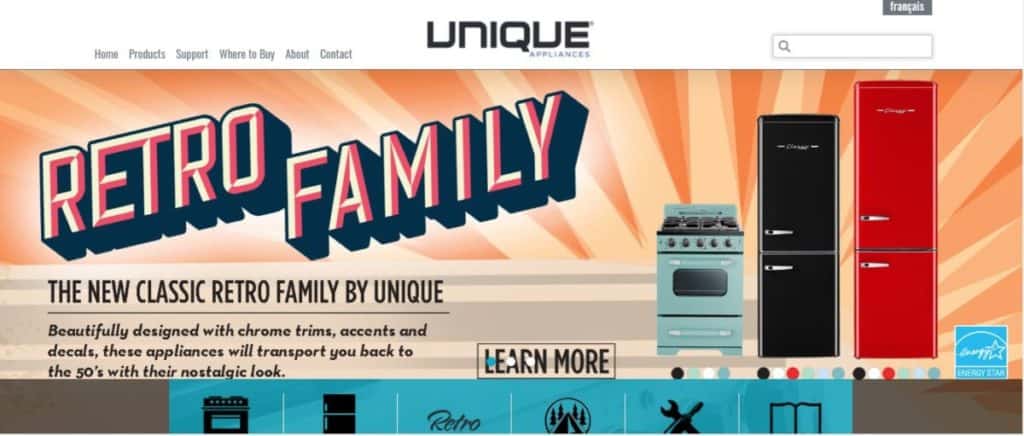 The website has a pleasant layout with an easy navigation bar across the top, which takes you straight to some key topics. The homepage also gives you the opportunity to sign up for the Unique Appliances newsletter, which will keep you up to date with their latest news and information.
I found the product menu to be a little haphazard. The initial options of Cooking Appliances, Fridges and Freezers, Retro Appliances, Portable Fridges and Freezers, Parts and Accessories and Catalogue seem straightforward enough, but once you begin to drill down beyond this, it feels a little messy.
One other thing that I found a little confusing about the website was that it was difficult to fully differentiate between the Unique Appliances conventional units and the Unique Appliances off-grid units or where it is possible to convert one to the other.
Whereas some appliances were labeled as off-grid, the battery ignition propane ranges, for example, others were not, and it was only really once you had dug down into the finer detail of each product that it became clear what the exact power requirements were for each appliance.
Purchasing
While Unique Appliances is the company that makes these products, they are a wholesale outfit only, and as a result, you do have to find a retail company that supplies them to make a purchase. If you have used their website for your research, there is the option to be redirected to a direct supplier of the product. Once you select it, you are required to either email or call Unique Appliances for information relating to your area. The Where to Buy tab also offers you the same option.
While the website states that there are thousands of dealerships that stock Unique Appliances products, they do seem to be harder to source online. Home Depot Some appliances are available at Home Depot or eBay but not all of the products featured on the Unique Appliances website are available, and at the time of writing, some were out of stock.
Support
Unique Appliances slogan is "personal service and knowledge makes us Unique," and this seems to be backed up by customer reviews. Even where customers have reported a problem, Unique Appliances do seem to take the time and care to rectify them by sending out replacements, new parts or advising on maintenance.
Parts and Repairs
All products come with a one year warranty on parts which is supported through whichever dealership you buy your product from. However, any labor costs are not covered. Unlike a lot of companies today that no longer supply the parts for their appliances out of manufacture, Unique Appliances have maintained a comprehensive parts inventory over the lifetime of the company and so can still supply you with parts for older machines if you need them.
Value for Money
Unique Appliances for off-grid homes are certainly not always the budget option. However, when purchasing an appliance for your off-grid home, it is worth remembering that these units have often been specially designed to be more efficient.
They are also likely to be made in fewer quantities than conventional appliances and are competing in a smaller market, all of which can add to the price tag. The other thing to bear in mind, especially with the appliances that they specialize in, is that they are essential appliances for everyday living. They're likely to be at the heart of your kitchen and so investing in a quality product is often money well spent.
Overview summary
Unique Appliances is a reputable company with a good history of working in the off-grid market. It has played a key part in the development of appliances for off-grid homes. Despite now providing for the conventional market as well, it maintains a strong presence in the off-grid world and produces appliances that can compete with any conventional appliances in style and design.
I felt slightly disappointed by the fact that, despite being a company that started with off-grid living as its main focus, it seems to have been led towards a more conventional market. So now, in some cases, it merely provides clever ways to convert a conventional product rather than offering a product that was developed specifically for homes that are off the grid. However, the products they do supply are well received by customers, and the reputation of the company has been built on being a trusted brand.
The stand out element to me is that these appliances do all the hard work for you. They are set up or can be converted for your off-grid power supply, whether that be solar-sourced-DC or propane, they do the job efficiently, and they look the part. They're an investment that will allow you to get on with your life and enjoy your kitchen, whether that is on-grid or off-grid.
PROS
There is no compromise on style and design for appliances that are suitable for off-grid homes.
The company has a good reputation and over fifty years of experience catering for off-grid living.
Unique Appliances prides itself on its customer support and has good reviews from customers.
They offer propane, gas and DC appliances often with adaptations or conversion kits to make them suitable for use off-grid.
CONS
Their website doesn't necessarily make it easy to initially decipher, which are their off-grid appliances and which are their conventional appliances.
You cannot purchase your appliance direct from the company; you have to go through a dealer. Online suppliers also seem to be limited.
Unique Appliances is certainly not the budget option for cooking appliances or fridges and freezers, but generally, customers are happy with their purchase.
My Off-Grid Product Recommendations
Related Reading
If you're looking for tools, equipment or reading materials, I have some other articles that you may find useful: