Lifesaver Bottle Review: Better Than The Grayl Geopress?
Lifesaver bottles provide a portable source of fresh drinking water wherever you go without relying on single-use plastic bottles. This stylish device looks like a large flask-style water bottle but contains a pumpable filter to produce 750mls of clean drinkable water.
With it, Lifesaver claim that you can: "Turn dodgy tap water, questionable bottled water or even dirty water from rivers, lakes and puddles into safe, drinkable water instantly."
The pump forces dirty water through an ultra-filtration cartridge with pores no bigger than 15 nanometers. The result is clean, fresh-tasting water free from contamination of viruses, bacteria and cysts.
The Lifesaver 4000UF bottle has met an adapted version of the rigorous NSF Protocol 231, which is a test recommended by the US Environmental Protection Agency to prove that a purifier can convert microbiologically contaminated water into water that is safe enough to drink.
Dirty water is added to the bottom of the Lifesaver bottle, the base is replaced, and then the handle concealed in the base is pumped vigorously. This forces the water through the filter and fills the 25oz drinking chamber.
First impressions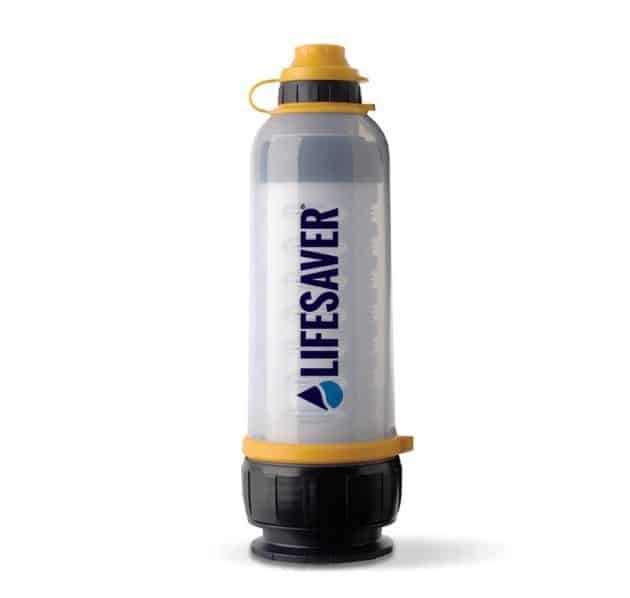 Having previously tried the Grayl Geopress, I was keen to see how the Lifesaver measured up. I was particularly interested to see how effective the pump action is because the Grayl forces water through a membrane in one steady motion. By first thoughts were that it looks like a more expensive with the translucent bottle body and yellow highlights, but it also appeared to be less durable and with more fiddly parts.
As with the Geopress, it's a large bottle because it needs to fit in the filter cartridge and store water. For me, it's bigger than any water bottle I'd typically choose but with the bonus of providing clean water it the positives far outweigh its unwieldiness.
You don't get a choice of colors, but you could opt for the more expensive 6000UF version, which includes a longer-lasting filter and comes in shades of grey instead of the yellow version. I prefer this to the look of the Geopress, but it gives the impression of being a bottle that is more suited indoors than in rugged terrain or emergencies.
Who are Lifesaver?
In the wake of the 2004 tsunami and Hurricane Katrina, Lifesaver's founder Michael Pritchard was appalled to see so many people unable to access clean drinking water. He decided that something had to be done, so he took to his garage and set about making a prototype of the first Lifesaver bottle. Now Lifesaver produces three bottle purifiers and numerous other water purification systems, including jerrycans and largescale pumps.
All of their technology is based on creating pressure to force water through exceptionally fine membranes that are able to filter out most contaminants. Their products are used throughout the world to provide humanitarian relief, and they work closely with many charities to provide isolated communities with long term clean water solutions.
How does the Lifesaver bottle work?
The lifesaver bottle works by introducing pressurized water to a series of filters. The first is a sponge disc that collects any sediment or large particles. The second is the 4000UF or 6000UF replaceable filter. It contains a membrane made of tiny hollow fiber pores that allow the water particles to pass and block any contaminants. Finally, there is an activated carbon filter that any remaining chemical particles that may affect the flavor or quality.
Any particles removed from the water stay on the dirty sides of the filter and can be washed out later on.
Ease of use
Having used the Grayl Geopress, I was hoping that the Lifesaver bottle would be just as simple. Unfortunately, it's far more fiddly. When you first receive your bottle, you need to follow the priming instructions; otherwise, it won't work correctly. This involves filling it with clean water and using the pump several times.
Once it's ready for use, you can fill it with water, pump it, and it's ready to drink. What I found quite awkward was that once it lost pressure, you need to use the pump again to keep drinking. In some cases, I found myself having to pump every time I reached for it to take a drink. Considering as you're getting safe, clean water, this is a fair trade-off but compared to the simple press filter of the Geopress, it felt awkward and inconvenient.
I also found it hard to be sure that I was keeping the clean end uncontaminated. You can't just scoop up the water because you may get the dirty water on the top, despite the snap-fit cover. The best way that I found was to carry a small plastic cup to scoop up the water and pour it into the bottle. For shallow water sources like puddles where it's hard to fill the bottle, you can use the filter sponge to soak up the liquid and squeeze it into the pump.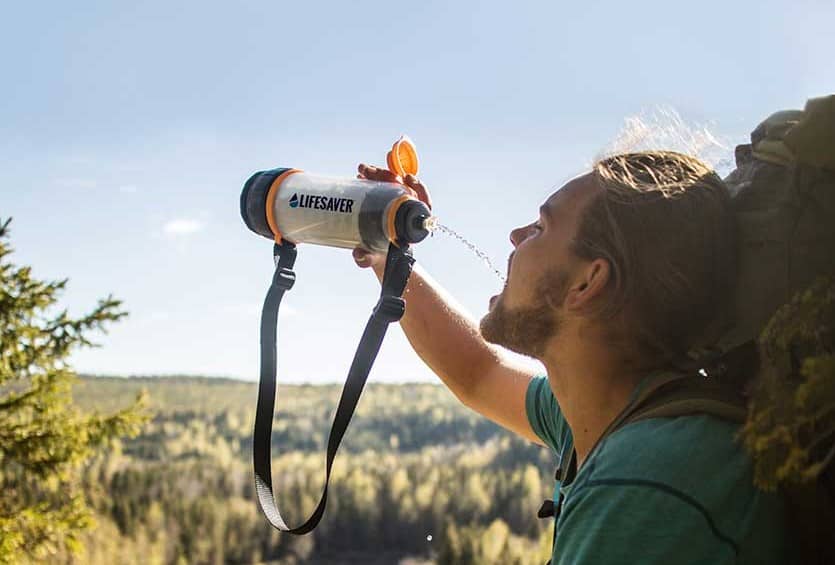 The bottle holds 25oz of water, which is a reasonable amount, but unless you're carrying extra water with you, one fill won't get you very far. I also found the size of the bottle to be too unwieldy for everyday use. If you want something to use at home to clean up your tap water, you'll want something smaller and more convenient, like the Grayl Ultralight.
One of my biggest issues with all of these bottle style filters is that while being incredibly convenient, they limit you to only a small amount of water that may not fulfill all your needs, particularly if camping. While the Lifesaver bottle itself also suffers from this, Lifesaver also does a model called Liberty. The Lifesaver Liberty bottle acts as a purifying water bottle, but it also comes with a hose and can be used to clean and pump water directly from a water source into another container like a jug or saucepan.
How do you use the Lifesaver bottle?
Before you start to use your Lifesaver bottle, you must first prime it:
With clean hands, start by unscrewing the base and removing it from the bottom of the bottle.
Now, holding it upside down with the open base end uppermost, fill it within one inch of the rim with tap water.
Replace the pump base and screw back on and leave it to stand for ten minutes.
Then, after ten minutes, remove the base again and pour the water away.
Now, refill the bottle to within one inch of the rim.
Reattach the lid and, with clean hands, open the snap-fit lid and drinking nozzle on the top of the bottle.
Pull the pump handle out from the base and pump four times. Water will begin to flow out of the nozzle. This water can be discarded.
When the flow slows down, pump the handle four more times.
Keep repeating this until only 1 inch is left in the bottle.
Now refill the bottle and complete the process two more times.
Now the Lifesaver bottle is ready to use.
Using the bottle:
Remove the pump base from the bottle.
Make sure the blue sponge disc remains in place inside the bottle.
Pour water into the base of the bottle to within 1 inch of the top.
Reattach the pump base and open the snap-fit nozzle.
Firmly pump the pump handle four to six times.
Open the nozzle with your teeth, and the water should flow.
To get the flow going again, pump four more times.
Does the Lifesaver really work?
Yes, once I got used to it, I had a lot of success with the Lifesaver, the water it produced was noticeably clean, and any muddy flavor was very mild. I started by using it at home to build my confidence that it would keep me safe when the water was contaminated. However, once I took it on a camping trip with me, I soon grew in confidence and had no problems.
These bottles have now been around for several years and are used by the British Army and several other organizations. In the past, they have had some issues, but the latest designs seem to have ironed out the kinks. To see the results of independent tests carried out by the North Florida Biological consulting services, you can find them here.
When should I replace my Lifesaver filter?
To ensure that you always have the cleanest, freshest water, you'll need to change the filters when they stop working at their optimum. The 4000UF filter will last for 4000litres, and when it needs changing, the failsafe technology will prevent it from passing water, and the water flow will stop.
The activated carbon filter needs changing more often and will only last for 250 liters. There is no indicator for this filter, but you may notice that the water begins to take on a more earthy flavor.
Also, you may need to replace the 4000UF cartridge if it has been stored incorrectly. To keep it working, it must be stored with at least one inch of water in it to keep the filter moist. If it dries out during prolonged storage, it's likely it won't work effectively and will need replacing.
Is it better than the Grayl Geopress?
To compare the Lifesaver 4000UF bottle with the Grayl Geopress, let's take a close look at their pros and cons:
The Lifesaver 4000UF Bottle
Pros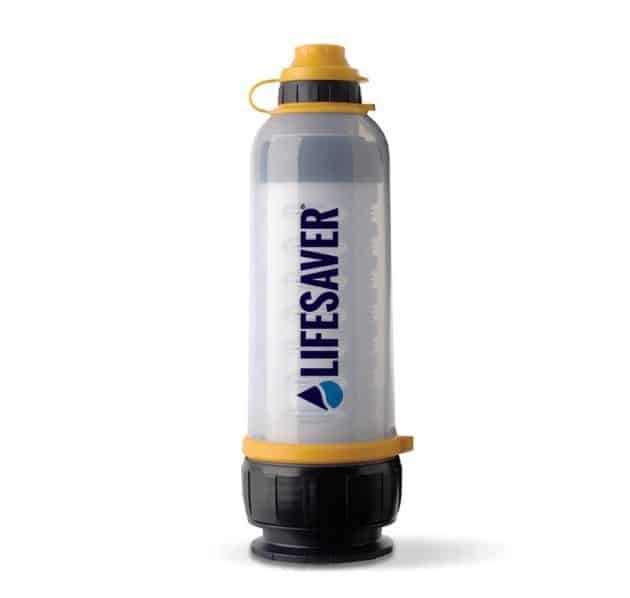 Tested by Independent Test House to meet adaption of NSF Protocol 231
Holds up to 25oz of water at one time
Cleans water in just under a minute
Uses ultra-filtration for purification
Removes, bacteria, cysts and parasites from contaminated water sources
The replaceable filters can last for more than 5000 uses.
An automatic indicator will tell you when the filter needs replacing.
It has a useful carry strap
It comes with a 2-year warranty.
It comes with a sponge that collects any sediment and can transfer small amounts of water into the bottle.
6000UF version also available
Cons
Considerably more expensive than the others at $149.99
Every time you want to drink, you need to use the pump to increase the pressure.
The plastic shell is sturdy but may not withstand the worst knocks.
Its large, rigid size can make it inconvenient in some situations.
The water capacity isn't enough for other uses such as cooking or long treks without regular top-ups.
When you store the Lifesaver bottle, you must leave at least 1 inch of water inside; otherwise, the filter cartridge will dry out.
The Grayl Geopress
Pros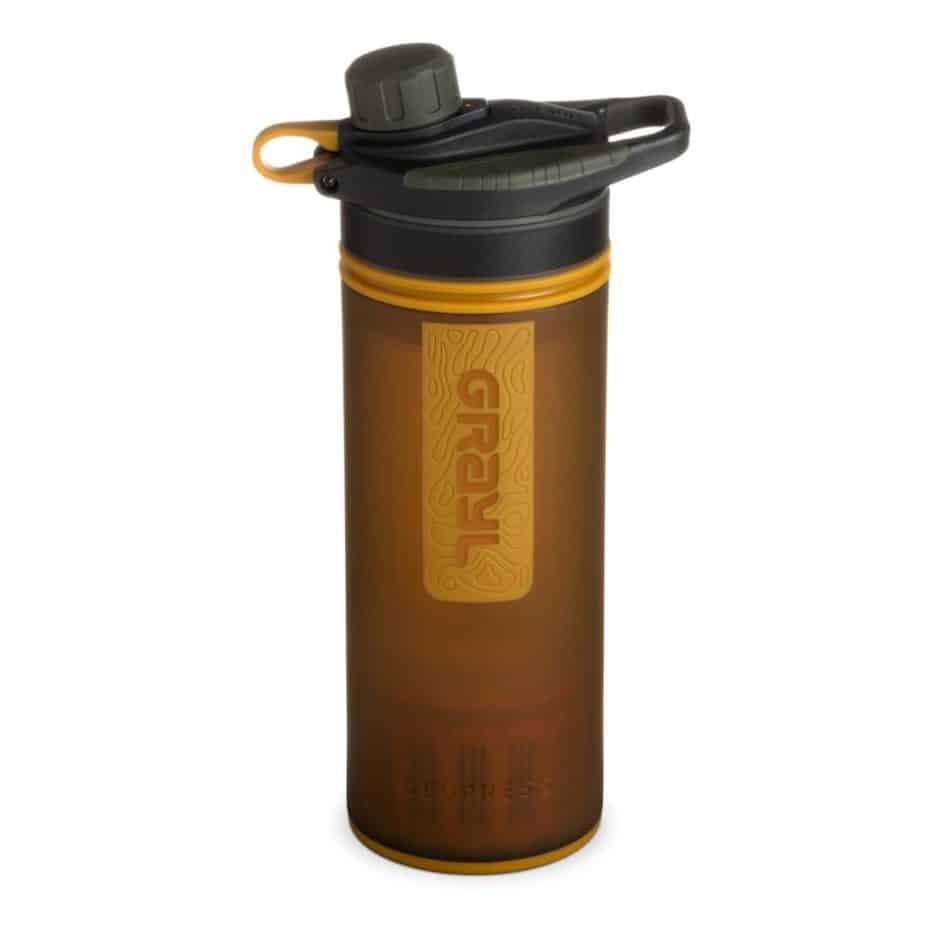 Meets the EPA Guide Standard and Protocol for testing microbiological water purifiers
Comes in 5 colors
Holds 24oz at one time
Cleans water in between 8 and 25 seconds
Simple purification action with two parts pressed together
Removes virus, bacteria, protozoan cysts), pesticides, chemicals, heavy metals, and even microplastics
The replaceable filters can last for up to 350 uses.
It's sturdy and can withstand being dropped.
It has a large loop so it can be easily clipped to a backpack.
It comes with a 10-year warranty.
Cons
Sediment can clog the filter and shorten its life.
The large, rigid size can make it inconvenient in some situations.
The water capacity isn't enough for other uses such as cooking or long treks without regular top-ups.
In my opinion, the Grayl Geopress is a much better option than the Lifesaver bottle. It's far cheaper, more durable, and less fiddly to operate. Both are large, slightly unwieldy bottles but offer great functionality and will give you clean drinking water wherever you are.
If you don't want to spend a fortune but want a solid, well-built purifier bottle that you can trust, then it's got to be the Geopress.
Value for money
At about $135, the Lifesaver is one of the most expensive purifier bottles. The technology it contains is impressive, and it's a useful piece of kit, but when there are more affordable options, it's not worth the extra money.
If you want a good water bottle purifier, you'd be better off choosing either the Grayl Geopress for $89.95, the Grayl Ultralight for $69.95 or for extra functionality, the dual-use Lifesaver Liberty for $136.30.
My Off-Grid Product Recommendations
Overview summary
Overpriced and overcomplicated, the Lifesaver bottle is outclassed by the Grayl bottle range and by its own counterpart, the Lifesaver Liberty. It provides 25oz of clean drinking water in just a few pumps, but it's not quite sturdy enough for some environments and must be kept with water in the filter; otherwise, it will dry and out and need replacing. For a much simpler time, you'd be better off with a Geopress.
Product Links
You can use these links to visit Amazon to check the latest prices or get your filter bottle of choice:
Related Reading
For more portable purifier reviews, find out what I thought about the Grayl Geopress Review, or the Sawyer Mini. I also compared the Grayl Ultralight Vs the Lifestraw Go.
If you're looking for tools, equipment or reading materials, I have some other lists that you may find useful: