LifeStraw Flex Vs. Sawyer Mini: Which Is The Best Choice?
LifeStraw was initially designed to be distributed in developing nations and during times of humanitarian crisis. Its simple design allows anyone to drink safely from dirty water sources like puddles and ponds. Since then, portable water filters have come a long way, and it's got a lot of competition. To see if the LifeStraw is still leading the industry, I tested and compared the LifeStraw Flex and the very similar Sawyer Mini.
The LifeStraw Flex and the Sawyer Mini are both straw style water filters that can be used in a range of different situation. They're both easy to use, can be adapted with extra components and are tested for quality by third-party labs. However, the LifeStraw Flex's collapsible bottle and two-stage filter make it the best choice.
To get the full picture, let's take a closer look and the pros and cons of both devices:
The LifeStraw Flex Pros
Almost identical to the original LifeStraw, the LifeStraw Flex is a lightweight filter that can draw up dirty water and clean it as you suck through it like a straw. The main difference is that the Flex comes with a collapsible bottle and can be used in five different formations.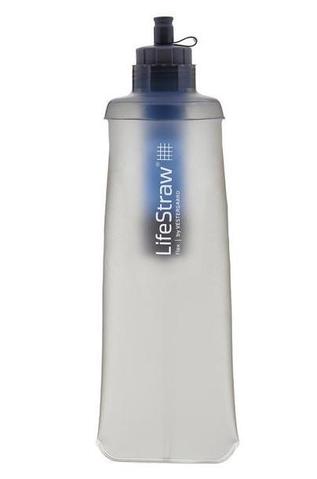 It comes with a kit
When you buy a LifeStraw Flex, you get a LifeStraw Flex filter, a 22 oz collapsible squeeze bottle, a useful backwashing syringe and the user manual. The bottle takes the Flex several steps beyond the standard LifeStraw.
With the original model, your only option was to get down on your hands and knees and use the filter to drink directly from the dirty water source. This version is much more versatile and lets you drink from a bottle or purchase extra items to purify larger volumes of water. The syringe that comes with it is essential to clean out the filter and keep it in good condition.
You can buy additional accessories
You can buy replacements for all of the parts in the Flex kit, but you can also purchase extras, including the LifeStraw gravity bag. This is a simple water carrying bladder that can hold one gallon of water. To filter water, attach the Flex to the hose and direct the water into your cup or jug. Gravity pulls the water through the filter and will purify the full gallon in less than 10 minutes.
You can use it in 5 different ways
With the kit that comes with it and the additional accessories, you can set up your Flex in five different configurations: as a personal straw filter, with the included squeeze bottle, with a gravity bag, as an in-line filter with most hydration packs or attached to most disposable water bottles
Third-party testing
Durable and BPA-free, the LifeStraw Flex is independently lab tested to meet protocols established by the US Environmental Protection Agency (EPA) and the NSF. Particularly NSF protocol 42 and protocol 231. P42 establishes the correct taste and smell, while P231 certifies that it provides effective microbiological purification.
Easy to use flexible bottle design
The 22oz flexible bottle makes the Flex particularly useful. When empty, it's easy to store, and when full, it still doesn't take up much space. The bottle itself feels tough, and I'm sure it'll last a long time, but it's also so reasonably priced that it's still a great option even if it needed replacing every once in a while.
I preferred this style of filter bottle to some of the other more unwieldy bottles like the Grayl Geopress and the Lifesaver because it's not as bulky. However, it's not as sturdily made, so likely won't last as long. On the other hand, I much preferred it to the drinking bag you get with the Sawyer.
Simple purification action
Because the filter in the Flex is an adapted LifeStraw, the actual purification happens as you suck the nozzle to drink the water. This draws the dirty water up through the microfilter membrane where it's cleaned as it travels towards your mouth. The added bonus of the Flex is that if you squeeze the flexible bottle, you can squeeze filtered water out into another cup or carrier.
Cleans water quickly
The cleaning action itself is almost instant. The only drawback that I found to this was that the stored water remains dirty until you go to drink it. With other bottles, you can look at the cleaned water before you drink it to reassure you that the purification has been successful.
Removes a range of contaminants
The 2-stage filter includes a microfiber membrane in the bottom section and an activated carbon filter at the top. Together they're able to remove bacteria, parasites, microplastics, chlorine, organic chemical matter, dirt, sand, and cloudiness
A long-lasting, replaceable filter
One membrane filter can clean up to 500 gallons of water which is equivalent to more than 2,900 full bottles. Surprisingly, this is easily beaten by the Sawyer's filter that is likely to last a lifetime and can filter 100,000 gallons of water.
The Flex's activated charcoal filter can also be replaced and will only last for 26 gallons or over 140 uses. The carbon filter can be replaced for $12.50, and both filters combined cost $25.
Long warranty period
The LifeStraw Flex comes with a 3-year limited warranty. It protects against defects in materials and workmanship.
It costs £34.95
Considering the versatility of the Flex and the durability of the bottle/bladder, this is an excellent price. However, it's significantly more expensive than the Sawyer Mini.
Every sale supports the 'Give Back' program
Through LifeStraw's Give Back program, they aim to make contaminated water safe to drink for communities worldwide. With volunteers and a dedicated team at crucial sites around the world, the program ensures sustainability through comprehensive planning, training, education and quarterly follow-up visits for five years.
As a result of this program, every time you make a purchase with LifeStraw, one child is provided with one year of clean water.
The LifeStraw Flex Cons
Although this is a practical, easy to use filter, there are a few cons to look at:
It doesn't remove viruses
Despite being able to remove bacteria and protozoa, the LifeStraw Go has not been certified as able to decontaminate virus-infected water.
It won't stand up on its own
The bladder-style bottle won't stand up on its own even when it's full of water. Also, it won't fit into cup holders, and I found it quickly fell out of the mesh pockets you get on backpacks.
There's no clip or strap
Disappointingly, there's no way to clip the Flex bottle to your rucksack. Although, it's not too cumbersome to hold as you walk along.
There is no choice of color or design
This isn't a significant issue, but if you use a bottle regularly, it's preferable to be able to choose the color.
---
Sawyer Mini Pros
The Sawyer Mini looks remarkably similar to the LifeStraw and also cleans water as it's sucked or drawn through its filter. As with the LifeStraw, the Mini can be used to drink directly from a water source, or it can be combined with other accessories to provide a broad range of purification options.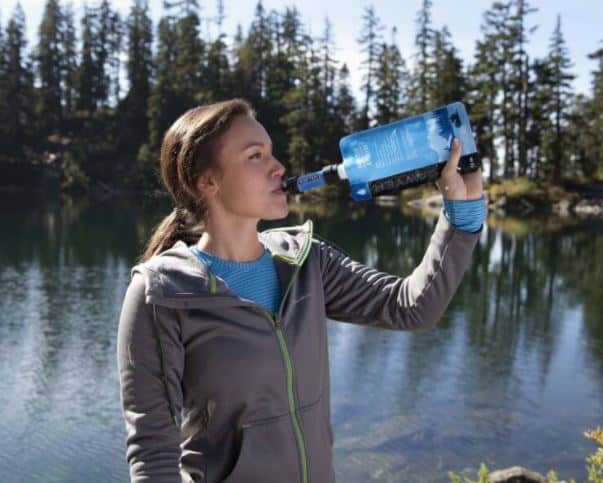 It comes with a kit
When you buy a Sawyer Mini, you also get a 16oz pouch, a drinking straw and a cleaning plunger. The plunger allows you to backwash the filter with clean water, which can restore 98.5% of the original flow rate, giving it a longer lifespan.
Because the filter is shorter than the LifeStraw, it comes with a straw that can be attached to let you drink straight from a water source instead of using the pouch. The pouch is lightweight and doesn't appear as tough as the collapsible bottle you get with the Flex.
You can buy additional accessories
To get more out of your Mini, you can buy several extras, including larger water pouches, 1-gallon bladders and several adapters. These allow you to filter and store larger amounts of water so that a single filter can provide enough water for you and your family.
You can use it in several different ways
The Sawyer mini is nearly as adaptable as the Flex. It can be used in-line with most bladder systems, like a straw to drink directly from the water source, with the provided pouch or with any standard-sized plastic disposable bottle.
You get a choice of six colors
The filter comes in black, blue, camo, green, orange or pink. I liked the option, but it's only the center section of the filter that's colored, not the water pouch, so it doesn't make a lot of difference to the overall appearance.
Third-party testing
The Sawyer Mini filter was tested by independent labs for its ability to remove Raoultella Terrigena, Bacillus Subtilis, and Micrococcus Luteus – using USEPA approved procedures. All of the filters that were tested met the target reduction of 6 log units or 99.9999% for all runs. It meets the USEPA standard for bacteria.
Mini design
Everything about the Mini is designed to be super-portable and easy to use. The filter itself is easy to fit into a pocket, and the 16oz pouch that comes with is lightweight and comfortable to hold, even when full.
Simple purification action
The purification happens as you suck the water through the filter. Or, if you prefer, you can squeeze the pouch and squirt it into another container. This forces the dirty water through a 0.1-micron absolute filtration system ridding it of contaminants, including bacteria, protozoa or cysts.
Cleans water quickly
The filter contains u-shaped microtubes that have a high flow rate. This means that the water passes through quickly, giving you clean water almost instantly.
Removes a range of contaminants
The Sawyer can remove Bacteria, Protozoa, E. Coli, Giardia, Vibrio Cholerae, Salmonella Typhi, Leptospirosis, and microplastics.
A long-lasting, replaceable filter
If you use the syringe pump that comes in the kit to backwash the filter with clean water, you'll likely never need to replace it. Each Sawyer Mini can filter an incredible 100,000 gallons of water before needing to be replaced.
100,000-gallon warranty
This is hands down the best warranty I've seen so far on a water purifier. It covers any defects found in the filter itself and not any of the accessories. For more details on some common problems with the filter and how to solve them, visit the Sawyer warranty page.
It costs £19.97
This is an impressive price for such a handy filter, and it makes it accessible to people who may need it.
Sawyer supports charities and churches
Sawyer has partnered with numerous charities and churches, including international Rotary clubs, to bring safe, clean drinking water to developing nations.
Sawyer Cons
Although this is an exceptionally portable filter that offers unbeatable affordability, there are a couple of drawbacks to consider:
Doesn't remove viruses, chemicals or heavy metals
Despite being able to remove bacteria and protozoa, the Sawyer has not been proven to decontaminate virus-infected water or filter out chemicals and heavy metals.
Only holds 16oz of water
When using the water pouch feature, the Sawyer Mini can only hold 16oz of water. However, if you want to carry more, you can add your own disposable bottle or buy a larger pouch.
Unattractive design
While this is by no means an ugly piece of design, the Sawyer is not as stylish as other purifiers, including the LifeStraw flex. The collapsible bottle with the Flex encases the filter, making it look more like a durable bottle. The Sawyer and its pouch look much more similar to single-use disposable items.
The pouch can be tricky to fill
The narrow mouth to the pouch can make it tricky to fill. The best way is either to submerge it entirely in water or to use a bottle or jug to fill it. The second option is the safest option, so you don't risk covering your hands in contaminated water.
Conclusion
This is an incredibly close comparison; the LifeStraw Flex is versatile and comes with a collapsible bottle and a carbon filter, but the Sawyer Mini is half the price, just as versatile and lasts much longer. However, when it comes down to it, I would choose the LifeStraw Flex. Although neither filters remove viruses, the LifeStraw still removes more contaminants, including chemicals like chlorine.
The flexible bottle that comes with the LifeStraw makes it that little bit more convenient to carry, as well as being easier to fill. Despite not lasting as long as the Sawyer, the LifeStraw feels slightly more durable. Although, if you're looking for a filter on a budget, the Sawyer Mini is still an excellent option.
You may also be interested to read my recommendations for gadgets and useful tech for your off-grid home.
My Off-Grid Product Recommendations