Grayl Ultralight Vs. Lifestraw Go: Pros & Cons of Each
Whether you're hiking, camping, or just want to drink fresh filtered tap water, a purifier bottle is a great option. However, there now seems to be more to choose from than ever before. To help you find which bottle is best for you, I've selected two of the most versatile lightweight options to compare against each other.
The Grayl Ultralight and the Lifestraw Go both offer compact water purification and storage. They're both easy to use, durable and are tested by third-party labs to ensure safe levels of filtration. However, the Lifestraw Go is cheaper, comes in a wide range of colors and is less fiddly to operate.
To get the full picture, let's take a closer look and the pros and cons of both bottles.
Related reading: LifeStraw Flex Vs. Sawyer Mini – Which is the best choice?
The Grayl Ultralight Pros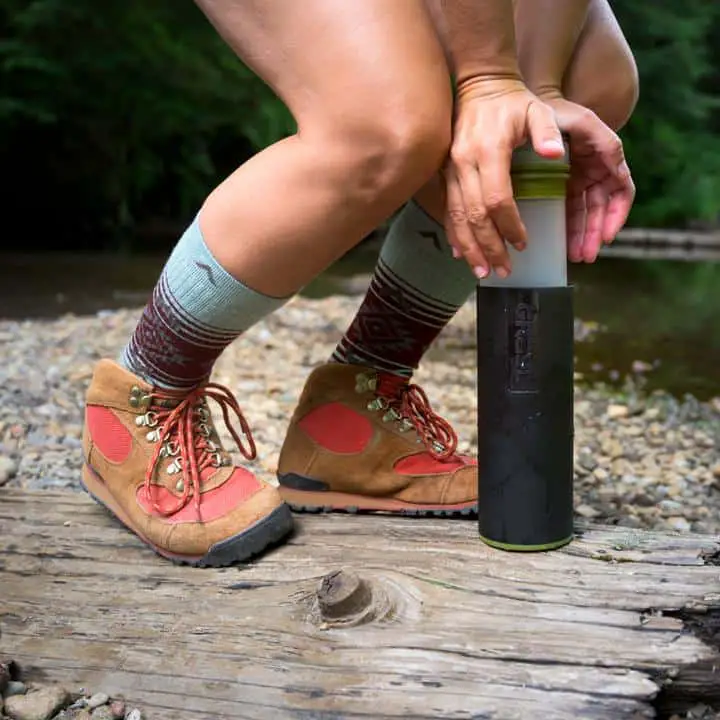 The younger, smaller sibling to the Grayl Geopress, the Ultralight, was designed as a response to those who found Grayl's other designs too bulky. It carries less water than the larger models, but it's much more convenient to carry or chuck into a small rucksack.
Third-party testing
The replaceable filter cartridge has been independently tested to ensure that it meets or exceeds the National Sanitation Foundation (NSF) protocols 42 and 53. These are the industry standards that relate to all residential drinking water filters and ensure that they perform effectively and safely. To achieve standard 42, the taste and odor of the filtered water are tested. Standard 53 is met by reaching rigorous health requirements.
Slim, lightweight design
This slim shape is similar to many straw style bottles and makes it much more versatile when you're on the go. It's relatively easy to carry in your hand or in the external pocket of a backpack. I even managed to squeeze mine into a car cupholder.
However, the trade-off is that it can only store 16oz of water compared to the 24oz stored by the Geopress and 22oz by the Lifestraw Go.
Color options
You don't have a lot of color choice with the Ultralight, but each of the three on offer looks smart and are relatively hardwearing. The choices are camo black, coyote amber or alpine white. I went with the camo black because it just seemed the best choice for something that's likely to pick up a few dings and battle scars along the way.
Simple purification action
The Grayl Ultralight unscrews to allow you to pour the unfiltered water into the bottom section. Then the top half is placed on top and firmly pushed down. As the two parts join, the water is forced through the filter into the upper section, where it's stored ready to be drunk. This means that as soon as the bottle is full and closed, all the water has already been filtered and can be drunk without reapplying the filtration mechanism.
Cleans water quickly
Pushing the two parts together should take 15 seconds, but I found it most often took around 20. As the filter cartridge ages, it's likely to begin to take longer and longer.
However, in practice, this didn't feel like too long, particularly as once it's done, you can drink all the water without needing to repeat the process.
Removes a range of contaminants
All Grayl purification bottles use ultrafine filtration media that utilizes ion exchange and activated carbon to remove impurities. The Ultralight can remove viruses, bacteria, protozoan cysts, pesticides, chemicals, heavy metals, and even microplastics
A long-lasting, replaceable filter
Each Ultralight cartridge can clean up to 40 gallons of water. That's the equivalent of 300 hundred uses.
Long warranty period
It comes with a 10-year warranty that covers workmanship and materials. If your bottle is faulty, you can contact Grayl via the support page on their website to arrange a replacement.
Regular donations are made
1% of every sale is donated to environmental charities and non-profit organizations.
The Grayl Ultralight Cons
Despite having many excellent features, the Grayl Ultralight has some points for improvement too.
The effect of sediment
If it's repeatedly exposed to sediment heavy water, it may clog the filter and shorten its life. To help it last as long as possible, you can clean it out with clean water.
It costs $69.95
I consider this to be a fair price for such a compact, effective purifying bottle but compared to the Lifestraw Go; it's considerably more expensive.
Water capacity
Ultimately it means that it's more suited to domestic uses rather than long treks or camping expeditions. However, this is something that it has in common with many of the modern purifying bottles. Carrying a small amount of clean water with you is excellent but relies on you being able to top it up regularly.
One solution to this could be to carry additional water storage to hold the unfiltered water. Each time your bottle needs topping up, you can fill from your larger storage and filter what you need using your bottle.
---
Lifestraw Go Pros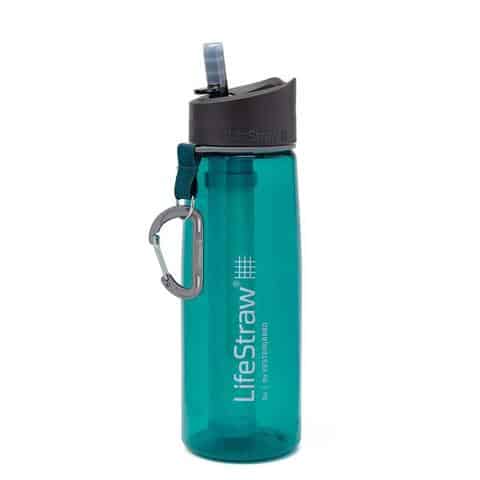 The original Lifestraw was designed as a lightweight filter that could draw up dirty water and clean it as you sucked through it like a straw. It was an excellent filter but required you to get down on your hands and knees next to the water source. The Lifestraw Go takes the concept to the next level by installing the excellent Lifestraw design and placing it inside a hardwearing plastic bottle.
Third-party testing
Durable and BPA-free, the Lifestraw Go is independently lab tested to meet protocols established by the US Environmental Protection Agency (EPA) and the NSF. Particularly NSF protocol 42 and protocol 231. P42 establishes the correct taste and smell, while P231 certifies that it provides effective microbiological purification.
Slim, lightweight design
Impressively the Lifestraw Go is simultaneously slightly smaller than the Ultralight and also able to hold more water. It can hold 22oz because the bottle has a single skin of durable plastic, and the filter is small and compact. Because there are no complicated features, there's more space for the water storage. Also, if you prefer, you can select the larger 1-liter option.
It also comes looped to a small carabiner that can be clipped to a backpack or belt loop. With this feature and its small size, it's ideal more many situations and can be easily carried or placed in a car or even a suitcase.
Color options
While it's not essential to be able to choose from a broad range of colors, I did enjoy selecting mine from twenty different designs. Each one has a different color and a different design that depicts a slogan or logo.
Simple purification action
Because the filter in these bottles is an adapted Lifestraw, the actual purification happens as you suck the nozzle to drink the water. This draws the dirty water up through the microfilter membrane where it's cleaned as it travels towards your mouth. Consequently, no other actions are needed other than just drinking the water.
Cleans water quickly
The cleaning action itself is almost instant. The only drawback that O found to this was that the stored water remains dirty until you go to drink it. With other bottles, you can look at the cleaned water before you drink it to reassure you that the purification has been successful. With this one, the first thing you know about it is the flavor. However, as I began to trust that every mouthful tasted fresh and clean, I soon got used to it.
Removes a range of contaminants
The 2-stage filter includes a microfiber membrane in the bottom section and an activated carbon filter in the top. Together they're able to remove bacteria, parasites, microplastics, chlorine, organic chemical matter, dirt, sand, and cloudiness
A long-lasting, replaceable filter
One membrane filter can clean up to 4000 liters of water which is equivalent to more than 6000 full bottles. This easily outclasses the 300 uses achieved by the Grayl Ultralight. Also, they're easy to replace and only cost $24.95.
The activated charcoal filter can also be replaced and will only last for 100 liters or over 150 uses. These are even cheaper to replace and are easy to fix into the top section of the 2-stage cartridge.
Long warranty period
Not quite as long as the ten years offered by Grayl but the Lifestraw Go comes with a 3-year limited warranty. It protects against defects in materials and workmanship.
It costs £39.95
This excellent bottle is one of the most convenient and versatile, yet it's also the most affordable.
Every sale supports the 'Give Back' program
Through Lifestraw's Give Back program, they aim to make contaminated water safe to drink for communities worldwide. With volunteers and a dedicated team at crucial sites around the world, the program ensures sustainability through comprehensive planning, training, education and quarterly follow-up visits for five years.
As a result of this program, every time you make a purchase with Lifestraw, one child is provided with one year of clean water.
Lifestraw Go Cons
Although this is a well-made, durable bottle, there are a couple of drawbacks to consider:
Doesn't remove viruses
Despite being able to remove bacteria and protozoa, the Lifestraw Go has not been certified as able to decontaminate virus-infected water.
Water capacity
Although it can carry more water than the Ultralight, the water capacity of the Lifestraw Go isn't enough for other uses such as cooking or long treks unless you were to have regular top-ups.
Conclusion
For me, the Lifestraw Go is the clear winner. It's simpler to use, more affordable and can hold more water. However, it's not a straightforward choice.  The main points to consider are the Lifestraw Go's shorter warranty and the fact that it's not able to remove viruses from water.
Your choice will depend on what you want to use the bottle for. If you want to clean up your own tap water or make hotel water safer, it's likely to be totally effective. However, if you're off into the wilds and may need to drink from contaminated pools and puddles then you may prefer to opt for the Grayl Ultralight.
You may also be interested to read my recommendations for gadgets and useful tech for your off-grid home.
My Off-Grid Product Recommendations