8 Ways to Generate Off-Grid Electricity at Home
When I think about generating off-grid electricity, I automatically think of solar power. But is that my only option? I did my research and several different ways to run an off-grid home.
8 ways to generate electricity off-grid:
Solar panels
Solar roof tiles
Wind power
Microhydro
Micro CHP unit
Biomass generator
Gas generator
Diesel generator
1. Solar panels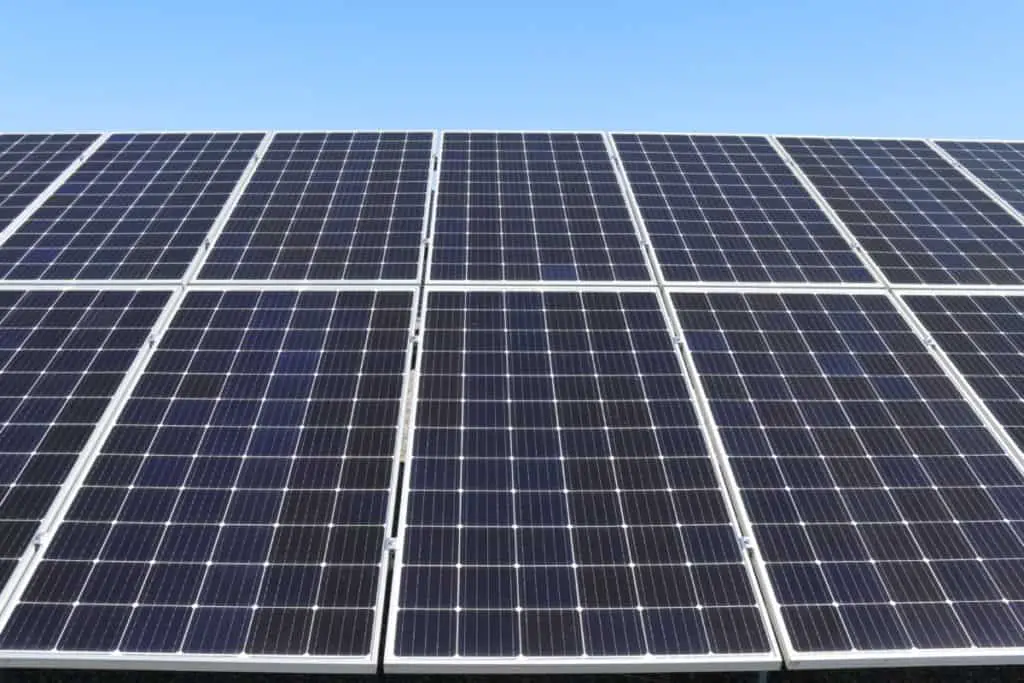 Solar panels are the most popular method of generating electricity at home. In 2019 over 2 million solar systems had been installed in the US. 
The Solar Energies Industry Association predicts that by 2024 2.5% of all American homes will have solar panels, and they will be installed at the equivalent of a rate of 1 per minute. Some of those installations will be off-grid systems. 
Off-grid solar relies heavily on battery storage to keep homes running when the sun isn't shining. At night time or when the sky is cloudy, solar panels stop producing electricity. 
However, an increasing interest in off-grid living and solar power has triggered an increase in the number of efficient batteries produced at reasonable prices. Off-grid solar is now more accessible than ever before.
Pros
There are lots of reasonably priced products available and lots of installation companies
They can be conveniently roof-mounted
They last between 20-40 years
They require very little maintenance
Cons
They don't produce electricity at night or on cloudy days
They require large amounts of battery storage
Solar batteries may need replacing between 10 -15 years
Check out my recommendations for best solar power equipment.
2. Solar roof tiles
These have been designed to make solar panels inconspicuous. They look similar to regular roof tiles but are small solar panels that work together to turn your roof into an integrated solar power system.
Various companies around the world have produced these in different versions. One company in the UK has been producing solar slates for the last 20 years. 
Solar tiles have become more popular recently because Tesla has been refining its solar roof. In its third iteration, the Tesla solar tile is now available for purchase, but installations are proceeding at a slower rate than promised. 
They've been available for preorder for the last three years, but only in late 2019 did they finally make it onto a few select rooves. Referred to as an invisible solar cell, they are designed to blend into your existing roof. Elon Musk has promised that over the next few years, more designs will become available to suit different roof styles. 
They come with a guarantee of 25 years, which matches that of most standard solar panels. The tiles are currently estimated to cost approximately $42,500 for a 2,000-square-foot roof with 10kW of solar capacity.
Pros
They blend in with your roof
Guaranteed for 25 years
Different styles and designs to be developed
No need for a frame to attach them to your roof
Cons
More expensive than standard panels
Only supplied by a few installers
Your existing tiles must be removed
3. Wind power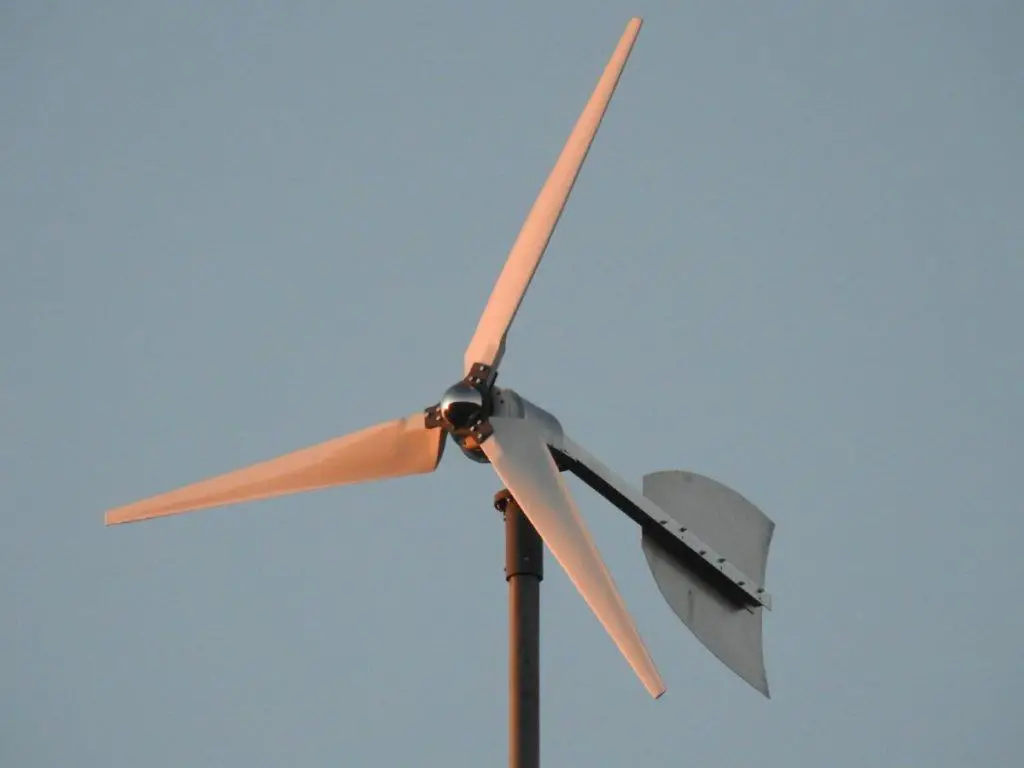 Wind power is another excellent renewable source of electricity. Small turbines can be reasonably priced and installed on your land relatively easily. However, to make a significant impact on your overall energy requirements, an average home will need a 5 to 15kw turbine. These are among the more significant models available for private dwellings and, in some areas, can only be placed on land larger than an acre.
The best use of a wind turbine is in combination with solar power. Similar to a solar panel that doesn't produce energy without sunlight, a wind turbine won't provide power without the wind. Having both systems means that when one isn't producing power, the other one might be. 
For many people, it isn't practical to run their entire home from wind power, but it is useful as an additional power source.
At Home Depot you can get the Nature Power 400-watt marine grade wind turbine for less than $400.
Pros
Readily available and easy to install
Very little maintenance is required
A source of renewable energy
Small wind turbines are reasonably priced
Cons
Only suited to areas with enough wind
Their height can breach local zoning restrictions
Produce a small amount of power for their size
4. Microhydro
Micro-hydropower systems are small, efficient units that convert the kinetic energy of running water into electricity. This miniature version of hydropower is ideally suited if you have a stream or other waterway on your property. 
A single system, appropriately situated in running water, can yield up to 100kW of electricity. The energy produced by one of these systems depends on the flow of the water, but if you have a water source that runs all year round, it can be more reliable than wind or water power. 
Depending on the size of the stream and unit, it is possible to power your whole home from these systems, but in most cases, they are best used with backups like batteries, generators, solar panels, or wind turbines.
Pros
In the right position, they can be more reliable than solar or wind power
Small units can produce up to 100kw
Cons
They require running water on your property
If the stream dries up so does the power
They are expensive and require specialist installation
5. Micro CHP unit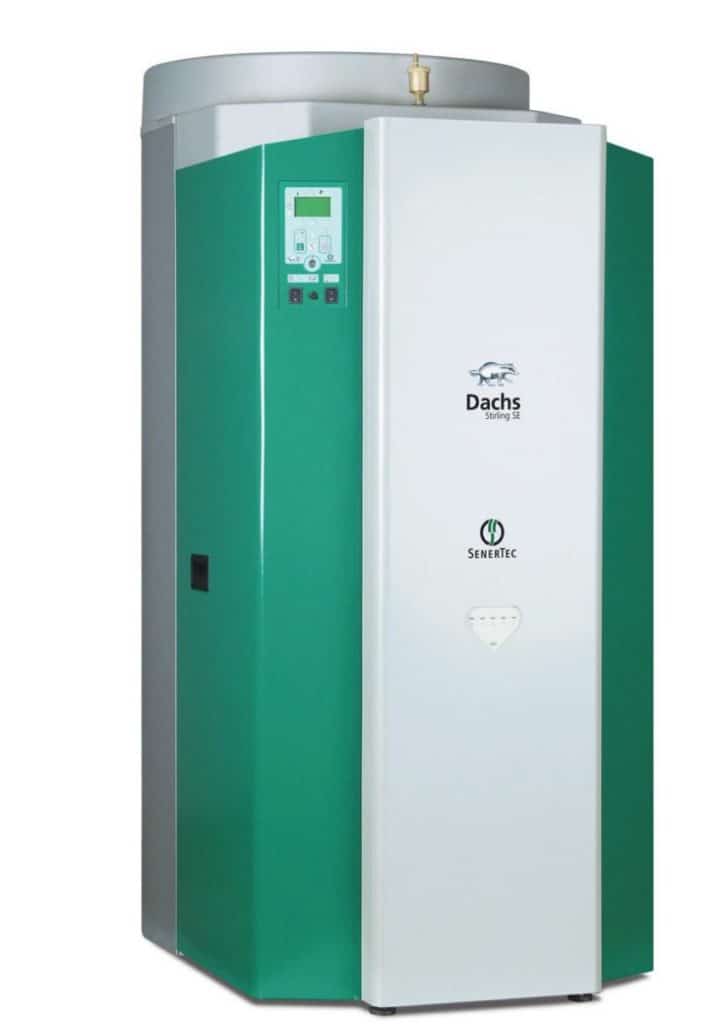 Micro-combined heat and power units (Micro CHP) look similar to a standard boiler but use fuel to produce heat and electricity simultaneously. You can expect an approximate ratio of 6:1 heat to electricity, but it provides enough of both to reduce your power bills significantly. 
Once it is running, a standard system can produce 1kw of electricity. You can run it from mains gas or LPG and maintain it in a similar way to a conventional boiler. This is an excellent way of reducing your power usage, so you need to harvest less from solar or wind power. If you aim to be completely off-grid, you won't want to run it from mains gas.
Pros
Produces both heat and electricity
Appears just like a standard boiler
Minimal upkeep
Cons
Needs a supply of gas or LPG to run
May not suit an off-grid lifestyle
6. Biomass generator
A biomass generator uses organic fuel to create heat and electricity like the Micro CHP unit. Currently, they are most commonly used in small commercial units, but smaller versions are being developed for domestic use. Most often, they run on woodchip or pellets, which is burnt to produce a gas. The gas then runs a mechanism similar to an internal combustion engine, but instead of producing movement, it creates electricity. 
There is not a large market for these products, but globally there are several companies producing units suitable for running 10kw systems. They are larger and more conspicuous than the micro CHP units, but they offer a similar service without the need for a source of gas or LPG.
Pros
Run on wood chips or pellets
Produce heat and electricity
Can produce enough power to run a complete home
Cons
Can be large and conspicuous
Require some expertise to install correctly
Only produced by a small number of companies
7. Gas generator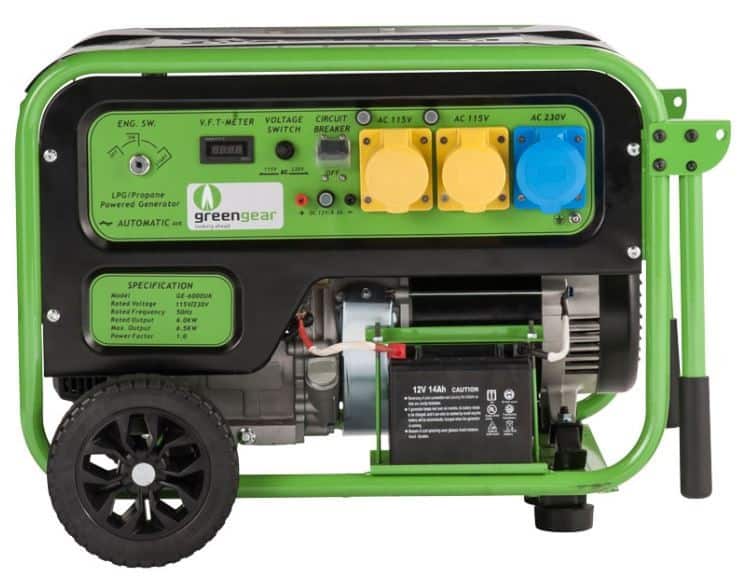 These are generators used to produce electricity in emergencies or to recharge your system. They are best used in conjunction with other power sources because they should only be run for short periods. You can run most gas generators on natural gas or propane, making them useful if you have no gas utility. 
They are among the cleanest of generators, and while gas is a relatively well-priced fuel, they can be costly to run for a long time. Several modern generators allow dual-fuel usage and can switch between gas fuel or diesel fuel depending on your requirements. A good generator can run a 10kw system for a short time, but it best used to charge up your batteries. 
Many people with no power utility use a generator like this in case of emergency to charge the battery bank if their solar panels don't get enough sun.
The Westinghouse 9,500-watt gas generator at Home Depot is less than $950 and has a remote start for extra convenience.
Pros
Clean to run
Easy to run and require minimal installation, if any.
Readily available and reasonably priced
Runs on natural gas or propane
Cons
Too expensive to run for a long time
Even quiet models can be quite noisy
Need to be regularly supplied with fuel
8. Diesel generator
Similar to the gas generator but running on diesel. These generators aren't as clean to run, but you get more electricity for your money. One of the most efficient ways to run a generator, diesel, is non-renewable, but it is easy to get hold of. 
Diesel generators are often the go-to back up for homes with solar systems. They are most commonly used to recharge batteries and rarely run any appliances directly. Some models come with electric starts making them very easy to use.
The Generac 5,000-watt diesel generator has an electric start to make things extra simple.
Pros
Easy to use
More economical than a gas generator
Diesel is easy to purchase
Cons
Non-renewable fuel
Expensive to run for a long time
Can be noisy
Conclusion
Which of these methods you use in your home will depend on where you live, what you want to run from your system, and any local zoning restrictions. The most successful approaches are often those that use a combination of these mentioned here. 
By using two or more of these, you reduce the risk of being without power due to weather or mechanical failure. An effective backup plan is essential for a successful off-grid lifestyle. While it is vital to choose renewable energy sources when possible, having one of the other options as a back up can be useful.
Check out my recommendations for equipment that will help you take your home off-grid.
My Off-Grid Product Recommendations