5 Off-Grid Communities That Live and Breathe Off-grid!
Off-grid communities can be often be portrayed as either a gimmick or just too good to be true. What do they actually offer? Where are some of the best? How do you go about becoming part of them?
Off-grid communities can provide a realistic answer to the call to live an off-grid lifestyle. They deliver much needed collective spirit and connection with other like-minded individuals without having to compromise on principles. 
Each community has its own unique identity; some are the realization of a dream-like Freedom Cove, while others like Dancing Rabbit or Tinkers Bubble, have a clear and practical objective. Some communities are closed, whereas others actively recruit visitors or new residents. At the very least, they are inspiring, at the best, they could be life-changing. 
Why do people live in off-grid communities?
People live in off-grid communities for all sorts of reasons. One of the key things (the clue is in the name) is the community. Living off the grid has the potential to be a lonely pursuit. By its nature, it is likely to take you to areas of low, or even zero, population and away from amenities and facilities that would normally bring people together.
Living in an off-grid community can add back that essential "society" of people without the trappings of modern-day living and dependency on grid power. It also, uniquely, brings a person straight into a likeminded group.
They may all be from diverse walks of life, but by the fact they have all made a choice to live off-grid, there is automatically a kinship based on principle and a determination to take responsibility for their way of life. 
Related reading: Why should I live off the grid?
The Best Five Off-Grid Communities 
There are hundreds of off-grid communities across the globe, large and small. These are the five best. Get ready to be inspired:
1. Freedom Cove. Vancouver Island, British Columbia, Canada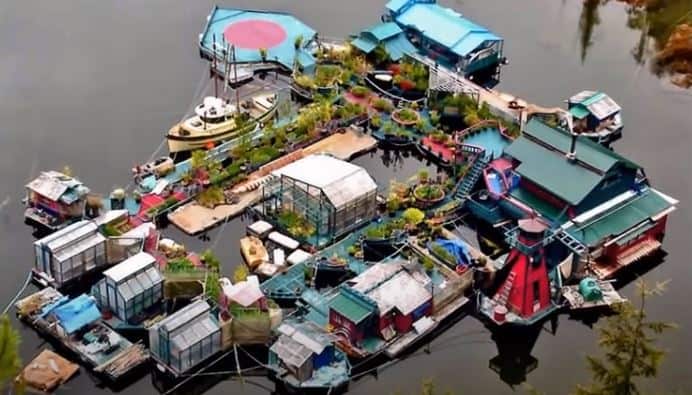 This incredible homestead is the brainchild of Wayne Adams and Catherine King. The artist and the dancer had a dream to live off the land…literally OFF land by building their very own island. 
Originally built on a wooden structure, this homestead now sits on a completely floating platform made from recycled fish farm cartons. It is tethered to the shore to keep the island stable, but it rises and falls with the water's movement. As Catherine states, they "live to the rhythm of the moon and the tide."
The island has gradually evolved over the 27 years the couple has lived there. They have added greenhouses, guest accommodation, an artist studio, candle making workshop, and even a dance floor. As the island has land above it, the water system uses gravity to provide a natural flow to the water, so no pumps are needed. They survive using solar power but do concede the need for a backup generator. 
The residents describe the island as a living piece of art, and it is easy to see why. Its cheerful colored buildings stand out against the water below and the forest. However, the sight somehow looks perfectly harmonious. The commute from the island to shore via kayak is a world away from the bustling subway. The idea of only having to travel to town for candy seems idyllic.
The life that has been created here does seem the ultimate goal of off-grid living. But Wayne and Catherine talk candidly about the hard work it has taken them to get to where they are and the money it has cost them. The decades of constant work to grow food, generate power, recycle water and maintain their island.
Their lives and this off-grid idle have received quite a bit of media attention recently. British Adventurer and author Ben Fogle made an entire program about the island and the ups and downs of its unique life. It is hard work and clearly not for everyone, but that being said, the way of life on Freedom Cove is close to perfection. Perfection of the off-grid kind. 
Key information:
The ultimate example of what can happen if you have the energy, skill, time, money and commitment to pursue your off-grid dreams. They can become reality. 
A place that is possible to visit and use as a point of great inspiration, but they won't be taking you on as a resident; no matter much you might like to live there!
---
2. Dancing Rabbit Ecovillage, Rutledge, Missouri, U.S.A.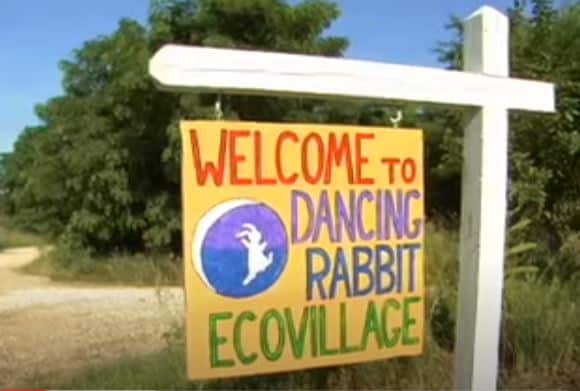 Dancing Rabbit Ecovillage has been running for over 20 years with an established community identity. At the heart of the Dancing Rabbit ethos is sharing what they've learned with others so that more people can make a move towards sustainable living.
To this end, the ecovillage has an incredible visitor program for which it has become well known and respected. This program offers the opportunity to experience sustainable living through Experience Weekends, Permaculture Design Courses, Women's Retreats, Natural Building Workshops, Singing Rabbit – a community singing event, and even work experience. You are heartily invited to "learn how to live lightly in community" through activities, information, hands-on activities, tasks, sports, games, and parties. 
With the incredible program on offer, it almost seems secondary that people actually live there, but they do, and you can too. To become a resident is a serious and considered application process. You are expected to have participated in at least one of their visitor programs, and then, if you want to apply for residency, you have to write a letter of intent (see our top tips for the things that you might want to cover).
You then have an interview with the Membership and Residency Committee (MARC) for both sides to meet and see how you might fit in. The MARC then recommends you either for or against residency. At this point, the existing members of Dancing Rabbit have the opportunity to comment on your application.
Only once this process has been followed are you invited to sign the residency agreement that binds you to living within the community's guidelines. Once you have been a resident for six months, you can then apply to become a member, which involves another in-depth series of applications and interviews. 
This process may seem rigorous, to say the least, but it demonstrates the importance that Dancing Rabbit place on maintaining the unique nature of their community and the unique opportunity it offers those who are selected to become part of it. 
Key details:
A great place to visit that is set up to welcome you as a visitor and share a wealth of knowledge and skills for you to take home. For more information, visit: https://www.dancingrabbit.org/
Becoming a resident is an involved process, but by becoming part of this established and renown community, you would undoubtedly reap the benefits. 
---
3. Finca Bellavista Treehouse Community, Piedras Blancas, Costa Rica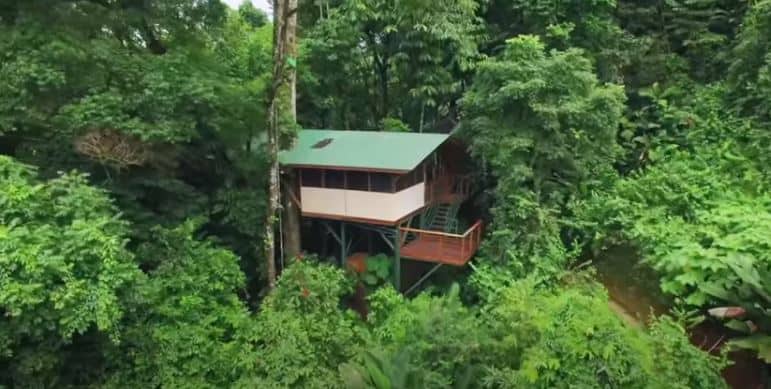 There aren't many people who wouldn't jump at the chance to live in a treehouse!
The fate of the initial 62-acre site could have been a lot different had it not been for the vision of Erica Andrews and Mateo Hogan. The two chanced upon the site, which, at the time, was for sale as an area to be cleared for timber. The landscape so inspired the pair that they came up with the idea of creating a treehouse village based on the Ewok village in Return of the Jedi. 
Once they had sold their vision to others (not hard!!) the project grew from strength to strength and now takes in nearly 600 acres of beautiful and varied Costa Rican landscape. Predominantly Finca Bellavista is a vacation rental community, but guests can book long-term rentals if they want to give their stay a feeling of permanency. 
Each treehouse is unique in situation, design and, therefore, amenities too. When booking, you can either choose by the type of occupancy you want e.g., number of people, with or without electricity or you can browse the various pages detailing each treehouse to find one that appeals.
El Castillo Mastate, for example, is a 25-minute hike away from base camp and 30 meters up in the canopy. It is accessed by an incredible suspension bridge, which, once crossed, filters into your very own observation balcony. Inside it is beautifully furnished and features a master bedroom, living area, and kitchen with all amenities powered by solar power. 
Clearly idyllic in setting, guests are reminded of the nature of the environment: "Guests should have an adventurous spirit, enjoy nature, and be in good physical condition…" 
Key details:
A real off-grid adventure for those prepared to take on the rugged nature of the environment. If you are not afraid of heights, then you are sure to be rewarded with a unique and unforgettable experience. 
It is clearly important to approach a trip to Finca Bellavista in the right way. The website is full of reminders that this is not a luxury five-star hotel but rather an exploratory adventure. To prepare you for this, they have some great pages on how to prepare and event what to pack. Find them here.
---
4. Tinkers Bubble, Somerset, England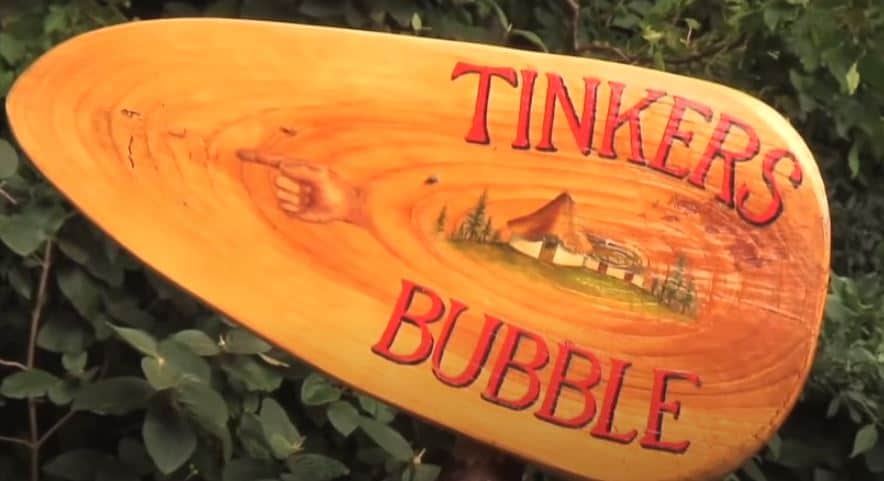 Tinkers Bubble woodland community has a distinct focus. In return for having permission to construct their self-built houses on the land, they are expected to make a living from it. The people of Tinkers Bubble have clearly made the best of this deal in the way they manage the land, harnessing traditional skills and a traditional way of life. 
They have a 5-acre orchard delivering a diverse range of apples. The apples are used to make either raw cider vinegar or hand-pressed apple juice, which is then pasteurized in a wood-fired pasteurizing station and sold locally and further afield. You get a sense of the community a little more when they state that any apple juice ordered within a 20-mile radius of the orchard will be delivered by electric bike.
Tinkers Bubble also produce sustainable sawn timber and runs a series of events, open days and weekend workshops to earn a living. 
It is possible to volunteer at Tinkers Bubble via application, and if you attend certain events, you are invited to camp there. However, it is clear that the emphasis of this community is about sustaining itself through the land. There is something very earthy and natural about this. It is not for show, or even really to promote a way of life. It is just about living in symbiosis with your environment, caring for it in anticipation of it providing for you in return.
Key details:
A community with a simple and uncomplicated aim to live off the land. 
Certainly a place to go to reconnect with nature and learn centuries-old skills and crafts as well as sampling cider brewed from the fruit of the trees around you. Find out more here. 
---
5. Earthship, Taos, New Mexico, U.S.A.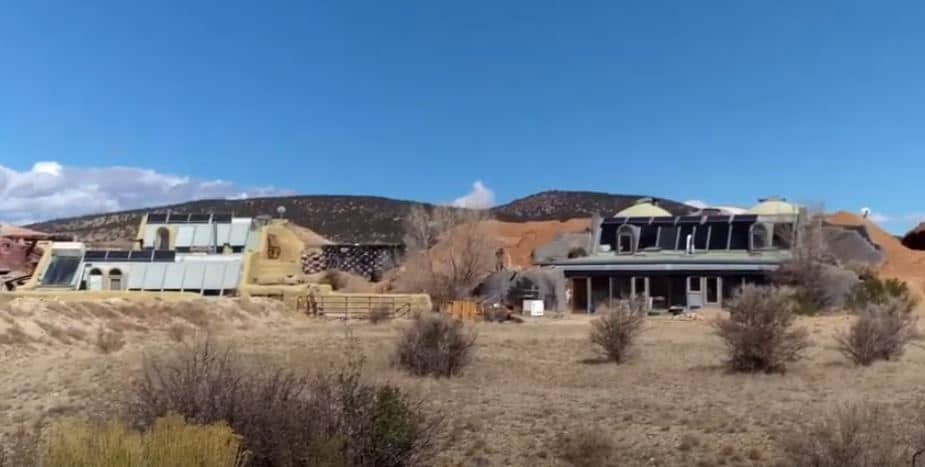 Earthship is an incredible feature on the New Mexico landscape and demonstrates possibly one of the most sophisticated ways of living off-grid in terms of architectural design and sustainable engineering. The first Earthship built in 1988 was constructed entirely out of materials destined for landfill; glass bottles, rubber tires, old piping etc. 
Now Earthship is much more than a place to live. It is a visitor attraction, a brand of architecture name "biotecture", a skills development academy and a vacation destination. 
From the website www.earthshipbiotecture.com it is possible to buy and download blueprint and construction drawings for your very own Earthship, and clearly many people have as it is possible to see Earthship designs all over the world. Furthermore, if you are going to be your own builder too, you can head to the Earthship Academy where it is possible to receive "extensive" training in Earthship "design, principles, construction methods and philosophy. 
Phil Basehart, Earthship Foreman introduces you to the underlying concept of Earthships and explains the name in this video
The original Earthship site in Taos has the feeling of being the motherland, the pilgrimage site, the place that started a revolution. It is awe-inspiring to see, and some of the spaces and places it is possible to stay in, have the feeling of a five-star hotel in terms of design and finish.
In contrast to some of the other communities featured here, it seems the most removed from the down-and-dirty you might associate with living off the grid. But it's also perhaps the most likely to convince the skeptics that sustainable living is a viable lifestyle choice. 
Key details:
The most corporate of all the communities featured, with a global brand and international influence. 
The skills academy gives you access to some incredibly knowledgeable and inspiring architects and builders who really do demonstrate that it is possible to make something visually spectacular out of complete trash. 
A place worth visiting whoever you are and one where you cannot fail to be impressed by what can be achieved. 
Related reading: 11 Challenges of Going Off-Grid and How to Overcome Them.
How to join an off-grid community
If you have been inspired by these five incredible examples of off-grid communities, perhaps even booked a trip to visit one of them, your thoughts might lead you to explore your options for joining a community closer to home. Many off-grid communities, often the smaller and less established ones, actively recruit people to come and join them. They might advertise in regional or national newsletters, magazines or journals. Some post on websites such as Foundation for Intentional Community, Land Buddy or Diggers and Dreamers.  
Top tips 
Do your research. If the community is small or new, there will be less information out there about it, so you may have to dig a little deeper to find things out.
Know what you want to get out of this community for yourself. This is where you are going to live – make sure you know what you want from it and the people who will be living there with you. It may take time to get the right match, but it is worth the effort.
Know what you could contribute to the community. Joining an off-grid community is likely to be a two-way decision. They will want to know what skills and attributes you will bring to the community. 
Make a visit. Visit at least once, if not several times before you commit. Try and meet different people each time, get a sense of the place to see how you might see yourself settling. Better still, go and stay there for a while. 
Conclusion
There are some fantastic examples of off-grid communities worldwide that demonstrate, in their own unique way, how rich and satisfying life off-grid can be. They all offer you the opportunity to learn from them, either through formal programs or through generous, anecdotal conversation.
It is possible to venture into them as little or as much as you like, through watching the videos of Wayne and Catherine at Freedom Cove, public events at Tinkers Bubble or by visiting, volunteering or renting at Dancing Rabbit, Finca Bellavista or Earthship.
And should you decide to take the ultimate step and join one of these, or other, off-grid communities, having opened your mind to the possibilities and followed the guidance, it could be the start of a whole new off-grid adventure. 
Check out my recommendations for equipment that will help you take your home off-grid.
My Off-Grid Product Recommendations